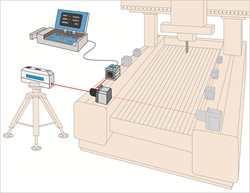 Peabody, MA (PRWEB) July 14, 2014
Pinpoint Laser Systems (http://pinpointlaser.com/) has introduced the Pinpoint Gantry Kit, a powerful new tool for geometric alignment of 3-axis CNC gantry machines. Its straight and weightless laser beam replaces traditional references of piano wire, heavy steel straight edges, and granite. The kit measures straightness, perpendicularity, level, and other parameters to an accuracy of 0.001" over longitudinal travel of 150'. Use the measurement values directly to make machine adjustments, or upload your data to a PC for display and further computation and compensation.
For large format CNC gantries, geometric alignment is critical for meeting precision tolerances and minimizing maintenance expenses. With the Pinpoint Gantry Alignment Kit (http://pinpointlaser.com/products/pinpoint-gantry-kit/), you can ensure rail straightness and parallelism, cross bridge perpendicularity, Z-axis straightness, and bed flatness. Compared to conventional methods, Pinpoint is faster, easier, and more consistently accurate---check an entire machine in hours rather than days. OEMs can use the kit for machine fabrication and assembly, installers for set-up and certification, and end-users and alignment bureaus for maintenance.
The housings for the laser and receiver are precision-engineered and machined of solid aluminum, anodized for wear resistance. The entire system is battery operated, and a USB interface allows easy connection to a PC. The kit includes Pinpoint Capture™ software, a powerful tool for data display, graphing, and storage. All components fit securely inside a rugged carrying case for safe transportation to your factory floor or any jobsite.
About Pinpoint Laser Systems
Since 1992, Pinpoint has offered a broad line of innovative alignment and measurement laser systems that are easy-to-use, versatile and portable. These products are designed to pay for themselves quickly by decreasing manufacturing downtime and increasing product quality. The laser alignment tools are used for both routine and complex measurement and alignment tasks, delivering measuring resolution of 0.0001 inch and working over ranges of 180 feet. Pinpoint's aligning equipment is actively used in a diverse range of industries, including aerospace, aircraft, machine shops, paper and textile mills, shipbuilding facilities, medical scanning equipment, extrusion plants, and electronic assembly facilities, to name a few. Pinpoint offers customized solutions, working closely with manufacturers to engineer specialized products for their unique applications.
For more information on this product or other news items, please contact Pinpoint Laser Systems, Inc. at 1-800-757-5383 (US) or 978-532-8001. Or email your questions to rbelt(at)pinpointlaser(dot)com. For more information on the Pinpoint Gantry Alignment Kit click: http://pinpointlaser.com/products/pinpoint-gantry-kit/