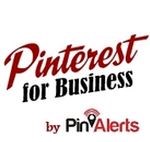 We know that purchase decisions have an emotional component and images communicate that better than words. We think Pinterest is a gold mine for marketers and it's still new. There is so much opportunity.
American Fork, UT (PRWEB) February 06, 2014
PinAlerts.com, a leading Pinterest marketing tool that alerts businesses when an image from their website is "pinned" to Pinterest, today announced a new partnership. Dreamfire LLC, owner of PinAlerts.com and PinnableBusiness.com, is partnering with Reflective Practices, LLC to further expand the product. A Joint Venture Agreement between the two companies was signed December 14th, 2013.
"We've always believed in PinAlerts but didn't have the dedicated resources allocated to help it reach its full potential," said Paul Wilson, co-founder of PinAlerts and managing partner of Dreamfire LLC. "With Reflective Practices a part of our team we can now offer more to our users and help them increase their marketing efforts on Pinterest."
James Jacob, the President of Reflective Practices LLC, supported Wilson's statement by adding, "We believe in the vision that Dreamfire has for both PinAlerts and PinnableBusiness. With Pinterest exploding on the social scene it is obvious that there is a need for marketing tools to reach a relatively new target base. We strongly believe that joining forces with Dreamfire LLC will help these sites be a driving force in providing for this need."
The agreement between the two companies allows each company to focus in the area that they are strongest. Dreamfire is a marketing firm that builds communities around web properties. Reflective Practices is an IT incubator company that invests in website and mobile applications startups.
The first project the companies are working on together is rebranding PinAlerts.com into a multi-tool Pinterest marketing suite. As part of the new brand both the website and alerts are undergoing a design facelift.
PinAlerts.com is a free service used by hundreds of small businesses as well as national brands. Bloggers also use PinAlerts to see which blog posts are gaining popularity on Pinterest. Additionally, blogs and businesses can receive alerts on competing websites to follow what other companies are doing on Pinterest.
"The reason we were drawn to Pinterest was because of its demographics," Wilson states. "Pinterest reaches the dot moms, the women who make the majority of purchasing decisions for their families. We know that purchase decisions have an emotional component and images communicate that better than words. We think Pinterest is a gold mine for marketers and it's still new. There is so much opportunity."
CONCLUSION
PinnableBusiness.com is on Facebook at https://www.facebook.com/pinnablebiz and runs one of the top LinkedIn Groups for Pinterest marketers at http://www.linkedin.com/groups/Pinterest-Business-4296870. However, their most active social network following is on Pinterest, where you will find a library of Pinterest-focused articles, with over 14,000 followers.
About PinAlerts and PinnableBusiness
PinAlerts.com and PinnableBusiness.com was initially created by Paul Wilson (partner of Dreamfire) and Janet Thaeler (blogger at newspapergirl.com) in early 2012. In the past year, PinAlerts has archived close to 100 million pins. PinnableBusiness.com is a business blog focused on Pinterest marketing case studies, insights, and tips. It was named as one of the top Pinterest marketing blogs by UpCity.com. An infographic from PinnableBusiness.com about how to optimize images on Pinterest was an instant success. It received thousands of pins and was featured on Mashable and other social media marketing blogs. The founders were also featured on a KSL-TV story about a local Pinterest marketing success story.
About Reflective Practices, LLC
Reflective Practices was founded by Charles R. Jacob and James Jacob in Salt Lake City, Utah in December 2012. In addition to their headquarters office in Utah, the company has employees from other locations in the United States, Africa, and an office in Surakarta, Indonesia.