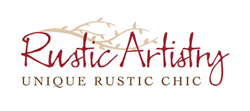 Rains says 64% of her social channels traffic comes from Pinterest. This beats out Facebook, which accounts for 34%. Those visitors have a lower bounce rate too.
Salt Lake City, UT (PRWEB) August 31, 2014
PinnableBusiness interviewed Carole Rains of Rustic Artistry to find out how she used inspiration from Pinterest to turn a part-time passion into a full-time business. Today she runs a successful online store and Pinterest page featuring artisan crafted furniture. She shared her tips for growing a business on Pinterest.
"I consider Pinterest a brand awareness forum, an exposure forum," she said. About four years ago, Rains started a Pinterest profile to collect pictures of homes, rooms, and furniture she liked. One board, "Make Mine Rustic," was especially popular. At the time she was working as a chef, but hoped to start her own ecommerce business. She was an avid online shopper and knew what customers look for.
Her online store, Rustic Artistry (http://www.RusticArtistry.com), was launched last year. That popular Pinterest board proved to be the inspiration for her store. "I found crafts people were not selling outside their local area or don't have a web presence," she said. "There is so much beautiful handcrafted furniture people want but can't find. I wanted to make it more accessible."
Rains eventually changed her personal profile to a business account at http://www.pinterest.com/rusticartistry1 and since then it has grown substantially. "When I launched Rustic Artistry last summer, I had less than 200 followers on my personal account. Since changing it to a business account and actively working it, my follower count has grown to more than 5,000. Almost 2,000 of those have come in the last 3 months."
Even though she has a very active Facebook page, Rains gets more traffic from Pinterest. The majority of her traffic from social media sites (64%) comes from Pinterest. Facebook accounts for 34%. Visitors from Pinterest have a lower bounce rate (55%), compared to 70% for Facebook visitors. Her virality scores are high on Pinterest also, with 90% of her pins getting at least one repin.
For Rains, Pinterest has been a recipe for success.
Learn more about Carole and Rustic Artistry and get more Pinterest marketing tips on our blog post: http://pinnablebusiness.com/how-a-rustic-furniture-business-markets-on-pinterest
About PinnableBusiness.com
PinnableBusiness.com was founded by internet marketers Janet Thaeler (@Newspapergrl) and Paul Wilson. The company is the creator of PinAlerts, which allows people to get an email alert when something is pinned from a website they track.
Follow
Pinnable Business on LinkedIn http://www.linkedin.com/groups/Pinterest-Business-4296870
Pinnable Business on Pinterest http://www.pinterest.com/pinnablebiz/
Pinnable Business on Twitter @pinnable