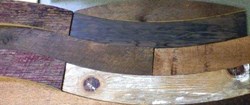 CNC capabilities allow us to create dramatic curves, circles, and other shapes in a wide variety of thicknesses and textures.
Farmington, NY (PRWEB) January 31, 2014
Cutting edge design takes on a new meaning as Pioneer Millworks incorporates CNC routing technology through their sister company, NEWwoodworks, expanding applications for reclaimed wood and creating new products.
The latest product developments include shaped or curved wooden 'tiles'. Crafted of a variety of Pioneer Millworks reclaimed wood, these pieces can be installed randomly, in a pattern, or blended with traditional board stock material. Precision milling on the CNC allows for extreme accuracy and reproduction of designs. The tiles are best suited for application on walls, doors, or other vertical surfaces.
"Traditionally, wood has been a very linear material, but our new CNC capabilities allow us to create dramatic curves, circles, and other shapes in a wide variety of sizes," explained Jered Slusser, reclaimed wood and design expert at Pioneer Millworks. "This tool also helps us to do intricate carvings of everything from corporate logos to entire wall-sized murals, in any of our reclaimed wood options."
Pioneer Millworks is also combining their custom finishing techniques with CNC detailing. Applying traditional Shou Sugi Ban charring finish results in dark patterns or letters that contrast the natural wood which is exposed after CNC routing. This application was put into practice for Pioneer Millworks' Portland, Oregon showroom sign with noteworthy results.
"Our new sign in Portland is a perfect example of the work we can do using varied carving textures and detailed cutting to create a crisp and modern look," continued Slusser.
Throughout 2014 Pioneer Millworks and NEWwoodworks will continue to partner with interior designers, architects, builders, and homeowners who have proven that creating varied patterns using shapes, thicknesses, and textures is a growing trend in designing with wood, as important to each project as source and species. Pioneer Millworks plans to continue expanding their custom products through CNC technology to meet this increasing demand.
Pioneer Millworks is the leader in the reclaimed wood industry. To date, they've rescued nearly 22 million board feet of old wood from rot and landfills, giving it new life as flooring, millwork, cabinetry, and more. All manufactured in the USA from New York and Oregon — in a way that's healthy for customers, employees, and the environment. Pioneer Millworks is FSC certified and Green America approved. All of their products are LEED point eligible.