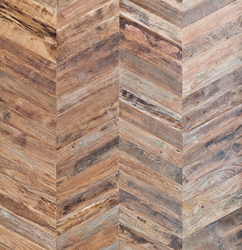 We're de-bunking the myth that reclaimed wood is just barn siding
Portland, OR (PRWEB) May 22, 2015
Pioneer Millworks, the largest reclaimed wood company in the world, remains at the forefront of designing with reclaimed wood, introducing their latest reclaimed wood products at Dwell on Design in Los Angeles, California. Their newest offerings, Vat 35, Reclaimed Teak, and Prairie Boards, will bring much-anticipated surface and color to America's largest design event.
"Designers, architects, builders, and homeowners alike pack our exhibit at each show, anxious to see and feel the variety of wood surfaces in our display," explains Jennifer Young, General Manager of Pioneer Millworks. "They also get the opportunity to talk in detail with our reclaimed wood experts, each with interior design degrees and years of industry experience."
While some wood companies specialize in Heart Pine or exotics, Pioneer Millworks specializes in variety, offering the industry's broadest selection of reclaimed sources, species, and – most important – colors and textures. Their exhibit showcases wood for contemporary and traditional projects. New on display at Dwell: Vat 35 in three grades (Patina, Patina Interior, and Center Cut), Reclaimed Teak in four grades (Smooth, Wire-Brushed, Patina, and Original Colors), and Prairie Boards.
"We're de-bunking the myth that reclaimed wood is just barn siding," says Ray Pettengell, California and Nevada reclaimed wood expert at Pioneer Millworks. "We're excited to share the latest design trends with products that challenge what the design community knows about reclaimed wood."
Dwell on Design will take place at the LA Convention Center in Los Angeles, California with the show running from 10am-6pm on May 29-31. Pioneer Millworks will be located at booth #2241. "We're looking forward to sharing our reclaimed wood knowledge at Dwell on Design, and in addition we're offering partners and friends complimentary tickets to give them the opportunity to experience and enjoy the show," continues Pettengell. If you'd like a complimentary ticket from Pioneer Millworks to attend ICFF, contact them here.
Curated by the editors of Dwell magazine, the three-day celebration, Dwell on Design, brings together the best and brightest products, services, and thought leaders in modern design today for a series of conversations, demonstrations, tours, and much more. In addition to featuring over 350 exhibitors on the show floor, Dwell on Design encourages an ongoing design dialogue, showcasing over 70 presentations on three separate stages.
Pioneer Millworks is the leader in the reclaimed wood industry. To date, they've rescued nearly 24 million board feet of old wood from rot and landfills, giving it new life as flooring, millwork, cabinetry, and more. All manufactured in a way that's healthy for customers, employees, and the environment. Pioneer Millworks is FSC certified and Green America approved. All of their products are LEED point eligible.