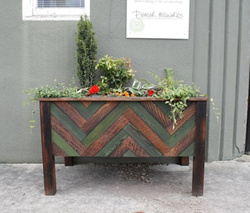 This ancient Japanese technique is pragmatic and dynamic, offering a new range of colors and textures with wood
Farmington, NY (PRWEB) June 06, 2017
A leader in the reclaimed wood industry, Pioneer Millworks has experienced a marked demand for color and texture in their wood products. They are fulfilling the need with a new line of Shou Sugi Ban charred wood.
"This ancient Japanese technique is pragmatic and dynamic," explains Jered Slusser, Wood Design Expert at Pioneer Millworks. "Applied to our sustainably harvested Larch it offers designers and homeowners a choice of color and texture, a look that could evolve over time depending on exposure to the elements – wabi-sabi, a reminder of the transience and imperfection of all things."
Shou Sugi Ban is an ancient Japanese technique of burning wood as a preservative treatment for exterior siding. Pioneer Millworks is applying this process to sustainably harvested Larch, an incidental species which has notable insect and rot resistance. The Deep Char grade exposes an 'alligator-like' texture, while Shallow Char produces rich black and brown tones still maintaining the sawn texture and high relief in the grain. Color Char is a combination of finishes on the Shou Sugi Ban available in green, red, blue, and more.
Shallow, deep, or enhanced with color the new product line is suitable for interior or exterior applications. The company notes that this finishing technique can be applied to other reclaimed wood species on request. An exterior oil is applied to all grades and are standard with shiplap or ripped two edges, ranging from 5-5.5" wide, 2" to 12' long.
"There is an effortless style achieved with this line," continued Slusser. "It brings new options with iridescent colors, varying textures, and proven durability to designs. It is easy to see why it is a hugely popular product and we're excited to share it." The company is featuring all three grades on their website and will showcase them at the Greenbuild trade show in Boston in November 2017.
Pioneer Millworks is the leader in the reclaimed wood industry. To date, they've rescued over 26 million board feet of old wood from rot and landfills, giving it new life as flooring, paneling, millwork, cabinetry, and more. All wood is manufactured in a way that's healthy for customers, employees, and the environment. Pioneer Millworks is FSC-certified and Green America approved. All of their products are LEED point eligible