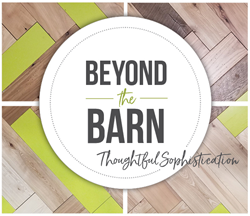 We're pushing the envelope with reclaimed wood to include adventurous colors, opaque or translucent, solid or settled in the cracks and crevasses
Farmington, NY (PRWEB) July 25, 2017
Pioneer Millworks introduces Thoughtful Sophistication™, the other side of reclaimed wood. Going beyond well-known barn wood to reclaimed wood options that are sleek and modern with a soul. Options include flooring, paneling, and fixtures – all with the eco-loving and LEED benefits that make projects sustainable.
"We turned to our team of craftsmen and wood experts to play outside of the barn and come up with provocative, fashion-forward finishes and textures. The results are color intense, unique plays on traditional surfaces—modern options that give architects, designers, and builders more freedom to innovate," said Jennifer Young, General Manager of Pioneer Millworks.
The company, known for their experienced in-house design team and high touch customer focus, is bringing classic grades, such as the rugged Settlers' Plank and smooth American Gothic to the design forefront with new milling profiles, textures, sheens, and colors.
Explains Young: "We're pushing the envelope to include adventurous colors, opaque or translucent, solid or settled in the cracks and crevasses. Each knot, nail hole, and line is a mark of character in this wood, a piece of history to share. We're keeping wood relevant with innovative, sophisticated possibilities."
Thoughtful Sophistication options are available in solid paneling, engineered paneling, solid flooring, engineered flooring, board stock, treads, thresholds, and fixtures—all with eco-loving and LEED benefits. New products and finishes include: Shou Sugi Ban (Color Char, Deep Char, Shallow Char), Saw Kissed Douglas fir, Raked, Painted and Sanded Foundry Maple, Sustainable White Oak, and more.
About Pioneer Millworks:
Pioneer Millworks is the leader in the reclaimed wood industry, with experienced wood design experts working directly with clients and mills crafting products from both coasts. To date, they've rescued nearly 26 million board feet of old wood from rot and landfills, giving it new life as flooring, paneling, millwork, cabinetry, and more. All wood is manufactured in a way that's healthy for customers, employees, and the environment. Pioneer Millworks is FSC-certified and Green America approved. All their products are LEED point eligible.