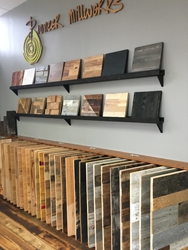 Wood works as structure, as craft, and as art. We're psyched to support local makers in Read:Grain.
Portland, Oregon (PRWEB) March 27, 2017
Pioneer Millworks is working to support makers, giving them a platform to celebrate the story of reclaimed wood and their craftsmanship during Design Week Portland (DWP). Following a theme of 'Read:Grain', each maker's creation will be on display during the Pioneer Millworks Open House in the SE district on Friday, April 28 from 4pm to 7pm.
"Wood works as structure, as craft, and as art. Its sustainability is second to none in this trio of strengths," explains Pioneer Millworks Founder, Jonathan Orpin. "Pioneer Millworks takes it one step further by reclaiming wood, and we've done it for 25 years and to 26 million board feet. We're psyched to support these craftspeople by offering them the wood, the space to share, and a small stipend with which to explore. Yum. Friday afternoon wine and cheese, good company, and reclaimed wood furniture. I'm in!"
Several local artisans will be sharing their Read:Grain creations during the Open House:

Branches Furniture – Joel & Alyse Knudsen
Global Homestead Garage – Philip Krain
Makers Woodworks – Garrett Michael
New Energy Works Timberframers – Josh Felty & Cameron Delzell
Tiny Shed – Jordan Saia
Wessinger Woodworks LLC – Bill Wessinger
Work-PDX – Henry Silvestrini
Zenbox Design – Bryan Danger
Open House attendees are encouraged to tour the Design Studio, to see and feel the wood. They will be able to explore reclaimed wood samples ranging from timbers salvaged from Centennial Mills to wine vat planks from local wineries. Reclaimed Wood Design Experts will be on-hand to answer questions and to share the latest trends in designing with reclaimed wood.
Pioneer Millworks Design Studio is located at 2609 SE 6th Ave in Portland. Street parking is available. Visit the DWP Open House page for more details.
About DWP:
Design Week Portland is a week-long, city-wide series of programs exploring the process, craft, and practice of design across all disciplines. Our mission is to increase appreciation and awareness about design and its far-reaching effects on matters of cultural and social relevance, including community development, education systems, and the economy.
About Pioneer Millworks:
Pioneer Millworks is the leader in the reclaimed wood industry. To date, the company has rescued nearly 26 million board feet of old wood from rot, landfills, and other sad endings. From the hand-hewn agricultural and industrial timbers America was built on to weathered planks and mineral-cured vat stock, their craftsmen give this extraordinary wood new life as flooring, paneling, millwork, and cabinetry. The salvaged wood is re-manufactured in a way that's healthy for customers, employees, and the environment. Pioneer Millworks is FSC certified and Green America approved. All of its products are LEED point eligible.