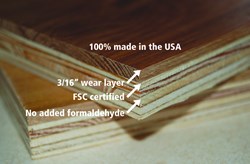 Farmington, New York (PRWEB) October 31, 2013
Throughout their 25+ years in the reclaimed wood business, Pioneer Millworks has implemented several innovative products and processes in their Farmington headquarters. The Democrat and Chronicle Passport to Innovation series provides readers an insider's view, an exploration of the innovative product and processes, at Rochester community businesses. The Passport to Innovation will focus on Pioneer Millworks' World's Most Eco-Friendly Engineered Flooring™ line.
"We are very excited to be part of the Democrat and Chronicle's new series," explained Jennifer Young, general manager at Pioneer Millworks. "Developing our eco-friendly engineering line came with plenty of challenges. The result is a product that is entirely green, from platform to extra thick veneer, from adhesive to finish. It is fully manufactured in the USA, right here in Farmington, New York."
The Democrat and Chronicle, along with a dozen of their subscribers, toured Pioneer Millworks headquarters, examining reclaimed timbers in the 9 acre yard and following the manufacturing process through their mill. Pioneer Millworks shared details of their operation from reclamation sources, to inventory tracking, to milling, to manufacturing their engineered line, to their scrap and sawdust re-use management.
A live demonstration of manufacturing of the eco-friendly engineered line revealed various components including: 3/16" thick reclaimed wood wear layers, FSC certified substrate, no added formaldehyde, and low VOC adhesive. As an added bonus the engineered flooring allows greater yield of near extinct species such as Elm and Chestnut. "Our eco-friendly engineered line meets the need for stable and beautiful wood flooring, a need created by construction methods where radiant heat and cement slabs have become commonplace, such as urban residential complexes, and retail developments," continued Young.
New applications for reclaimed wood continue to gain popularity with homeowners and within retail and commercial environments. "The more creativity a design calls for, the more we are able to push our capabilities, to be innovative which is what the Democrat and Chronicle focused on," said Young. Pre-sized panels crafted using the eco-friendly engineering process are of particular interest not only for their green aspects, but due to their quick and easy installation.
"In addition to manufacturing all of our products in a way that's healthy for our people, our customers, and our environment, finding new uses for this storied wood, whether on the floor, walls, or ceiling, are the other highlights of our work," continued Young.
Pioneer Millworks is the leader in the reclaimed wood industry. To date, they've rescued nearly 22 million board feet of old wood from rot and landfills, giving it new life as flooring, millwork, cabinetry, and more. All manufactured in the USA from New York and Oregon — in a way that's healthy for customers, employees, and the environment. Pioneer Millworks is FSC certified and Green America approved. All of their products are LEED point eligible.