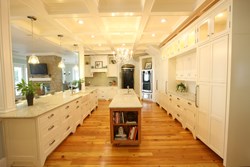 Antique Heart Pine is a highly desired species due to its dense grain patterns, deep patina, character, and of course, history.
Farmington, NY (PRWEB) August 31, 2013
An NYC restaurant is incorporating reclaimed Heart Pine paneling salvaged from the Esquire Novelty building into their new space slated to open in the Winter of 2013. The antique pine, also known as Southern Yellow Pine, was salvaged by Pioneer Millworks during deconstruction of the Esquire Novelty building in Amsterdam, New York.
Beginning with raw industrial salvaged timbers, Pioneer Millworks will mill board stock repurposing the antique wood into paneling and flooring. "Heart Pine in its higher grades is a quality wood with great durability and density, and a bit of antique resin which achieves a wonderful look that adds a unique flavor to any project," said Jered Slusser, reclaimed wood and design expert at Pioneer Millworks.
Dating from the turn of the last century (it is first listed on an 1905 survey map) this building was originally part of what was known as the Mohasco Mills Complex. Lured to the Southern States by lucrative financial incentives, the carpet mills vacated the site in the late 1950′s and 60′s. The property remained vacant until Esquire Novelty, following the lead of several other Toy manufacturers who relocated to Amsterdam in the 1970′s and 80′s, moved into the Building #17, which once housed a weave mill. Building #17 was among the last of the Mohasco Mills structures to survive. Many of the other buildings succumbed to arson and controlled implosions.
"Reclaimed Heart Pine is said to be the species our country was built on. Factories and mills, such as the Mohasco Mills Complex, were largely constructed using these pine timbers," explained Jennifer Young, Manager of Pioneer Millworks. "This was a large building, constructed with over 176,000 board feet of antique wood. The Heart Pine is a highly desired species due to its dense grain patterns, deep patina, character, and of course, history."
Over 15 truckloads of the Heart Pine timbers, including 15"x15" posts and 25' long beams all arriving in early September, will find new life in residential and commercial applications through Pioneer Millworks. "Old wood isn't just about sustainability and beauty. It's about carrying a piece of history forward," continued Young.
Pioneer Millworks is the leader in the reclaimed wood industry. To date, they've rescued nearly 22 million board feet (link) of old wood from rot and landfills, giving it new life as flooring, millwork, cabinetry, and more. All manufactured in the USA from New York and Oregon — in a way that's healthy for customers, employees, and the environment. Pioneer Millworks is FSC certified and Green America approved. All of their products are LEED point eligible.