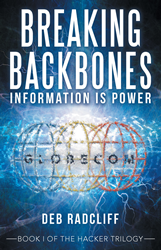 KIHEI, Hawaii (PRWEB) August 16, 2021
An exhilarating and immersive cautionary tale with a whip-smart heroine and a group of talented, justice-bent hackers, "Breaking Backbones: Information Is Power: Book I of the Hacker Trilogy" empowers readers to think critically about what is at stake in today's ongoing cyberwarfare. Deb Radcliff draws from her 25 years on the cybercrime beat to explore the implications of a world in which all data and power are concentrated in the hands of a technological conglomerate called GlobeCom.
A long-standing battle between privacy and convenience erupts after a human chip implant called a unique identifier (UI) becomes compulsory for participation in everyday life. GlobeCom, the Orwellian company behind UI, uses this technology to expand its political dominance, and implements 24/7 surveillance as a means of control. In retaliation, various hacker clans join forces, conspiring to break the network backbone and restore personal liberty.
Pivotal to the operation is the UFJ hacker clan, led by den mother and former digital forensics expert Cy and an insider helping them whose identity as GlobeCom chief security officer Leonard Smith is only known to Cy. Destroying GlobeCom's data centers brings them closer to their goal of ending GlobeCom's grip on humanity, but then local clan leaders set Leonard up as a target for their next attack, and Cy must act quickly to protect him without compromising their entire mission.
Radcliff's gripping story pushes readers to consider the consequences of technological overreach and demonstrates how data and surveillance can be wielded as weapons against humanity. Inspired by the brilliant and colorful people she has met during her career, she also seeks to introduce mainstream audiences to the diverse and fascinating world of hacking and the lifestyles and philosophies that make the people in this community unique.
"Deb Radcliff knows how to craft a riveting cyber-spy thriller that reads like a high-speed car chase through the intersection of the real world and cyberspace," said Diana Kelley, co-founder and CTO of SecurityCurve. "Backed by Deb's years of experience as an investigative journalist covering cybersecurity, 'Breaking Backbones' is an up-all-night page-turner told by an insider."
"Breaking Backbones: Information Is Power: Book I of the Hacker Trilogy"
By Deb Radcliff
ISBN: 9781665701082 (softcover); 9781665701099 (hardcover); 9781665701105 (electronic)
Available from Amazon, Barnes & Noble and Archway Publishing
About the author
Deb Radcliff is an author and analyst with an extensive background in cybersecurity and cybercrime writing. In 1996, after researching a bestselling book about computer hacker Kevin Mitnick authored by Jon Littman, she decided to make cybercrime a beat. As a pioneering cybercrime journalist, she built relationships with cyberagents and leaders in the FBI, CIA, Secret Service, NYPD and several agencies within DOD as well as many other local and federal agencies that were creating and growing their cyber units. Her articles are cited in numerous research papers and college textbooks, and she has won two Neal Awards for investigative business reporting and was runner-up for a third. She has also spoken at West Point and continues to speak and write about cybercrime and security. To learn more about Radcliff, please visit debradcliff.com or connect with her on Facebook (@BreakingBackbones), Twitter (@DebRadcliff), Instagram (@debradcliff81) and LinkedIn.
Review Copies & Interview Requests:
LAVIDGE – Phoenix
Leslie Standridge
480-998-2600 x 586
lstandridge(at)lavidge(dot)com