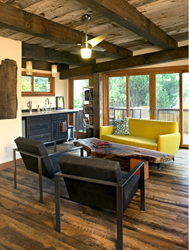 Pioneer Millworks products combine social responsibility with a quality design aesthetic worthy of the wood's story and each project
Portland, Oregon (PRWEB) December 31, 2014
Pioneer Millworks is pleased to announce the addition of Carolyn Bailey and Elise Jackman to the company's team of reclaimed wood design experts, covering the Rocky Mountain and the west coast regions, signaling the company's growth and confidence in the market. Bailey and Jackman will work closely with the design and build community offering reclaimed and sustainable wood solutions such as flooring, paneling, siding, timbers, wood tops, and fine woodworking.
Carolyn Bailey will serve the Rocky Mountain region including Colorado, Utah, Arizona, New Mexico, and Texas. She brings expertise in design with a BFA in Interior Design/Architecture and much experience from her role as part of a two person Design-Build team for over 8 years.
"Since 7th grade wood shop I've loved the smell of sawdust," explains Bailey. "Pioneer Millworks products combine social responsibility with a quality design aesthetic worthy of the wood's story and each project. I look forward to helping designers, homeowners, architects, and builders find creative solutions to fulfill their wood needs."
Elise Jackman will lend her skills to the west coast regions: Oregon, Washington, Idaho, Montana, Wyoming, Alaska, Hawaii, and parts of Canada. While earning her MFA in Interior Design, Elise honed her knowledge and passion for designing with reused and reclaimed materials.
Jackman explains, "There is something special about working with homeowners, architects, designers, and builders. I'm excited to help them navigate and integrate Pioneer Millworks' reclaimed wood products into their projects."
Pioneer Millworks will be exhibiting at the International Builder Show (IBS) 2015 where Carolyn and Elise will be on-hand, sharing their excitement and experience in designing with reclaimed wood. "I'm looking forward to connecting with architects, designers, builders, and influential people in the industry. These relationships are sure to lead to great projects and, more importantly, lasting friendships," says Jackman.
For more information about Pioneer Millworks reclaimed wood products in the Rocky Mountain region, please email: carolyn(at)pioneermillworks(dot)com or call 303-905-5373. For the West Coast please email: elise(at)pioneermillworks(dot)com or call 503-719-4800. Or visit pioneermillworks(dot)com.
Pioneer Millworks is the leader in the reclaimed wood industry, having given more than 23 million board feet of old wood new life as flooring, millwork, cabinetry, and more. All sourced and manufactured in the USA from New York and Oregon — in a way that's healthy for customers, employees, and the environment. Pioneer Millworks is FSC certified and Green America approved. All of their products are LEED point eligible.