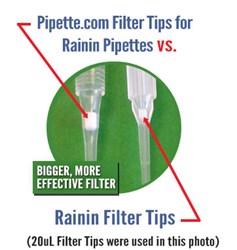 Labs actively seeking to save money on pipette tips should look into Pipette.com's tips for Rainin LTS® pipettes.
San Diego, CA (PRWEB) October 31, 2013
With recent budget cuts in the life science community, Pipette.com continues to support the sciences by offering premium and reliable liquid handling consumables. Consumables which guarantee accurate results and prevent re-purchasing of them because they lack precise results due to product quality.
Labs actively seeking to save money on pipette tips should look into Pipette.com's tips for Rainin LTS® pipettes. Designed for Rainin LTS® and XLS® pipettes, Pipette.com's line of tips are a quality alternative to the Rainin pipette tips. They are molded using special resins and require the least mounting force in the industry while still providing airtight seal. Pipette.com's filter tips designed for Rainin LTS® pipettes use a 10 micron pore size filter. These smaller pore filters guarantee that the pipette barrels will be kept clean of DNA, radionucleotied, and other contaminants. They are available in bulk, racked/sterile, Eclipse Reload, and filtered packaging.
Pipette.com also offers ep Dualfilter TIPS® which showcase the advance in technology of pipette tip manufacturing. The ep Dualfilter TIPS® contain pure PE filter and are made of hydrophobic material. Their unique two layer protection stops aerosol contamination and ensures optimal results. They are ideal for those wishing to prevent contamination when aspirating and when coming into contact with a PCR sample. For further explanation of the benefits of ep Dualfilter TIPS®, read Eppendorf's "Inhibitory effects of filter tips concerning PCR and real-time PCR" Technical Report.
Both ep Dualfilter TIPS® and Pipette.com's alternative to Rainin LTS® tips may be utilized for general molecular biology, molecular diagnostics, virology, cell culture, as well as microbiology research. Both are also RNase-, DNase-, pyrogen- and endotoxin-free.
Pipette.com is renowned for their 17 years of excellent service and superior customer experience. They strive to provide high quality pipettes, tips and calibration service tailored for each of their customers. Learn more about Pipette.com and how they can provide high-quality and reliable pipette filtered tips at http://www.pipette.com/filtertips.
Contact Information:
Pipette.com
9212 Mira Este Ct.
San Diego, CA 92126
Phone: 1-800-243-3232
Fax: 1-858-536-3342
Email: info(at)pipette(dot)com