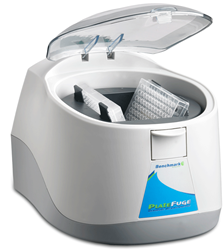 Pipette.com announces promotion on the Plate Fuge Microcentrifuge – Buy one Plate Fuge and receive a free CoolCube, which is a microtube & PCR plate cooler.
San Diego, CA (PRWEB) September 25, 2014
Already offering a comprehensive portfolio of centrifuges and minicentrifuges, Pipette.com is now offering a promotion on Benchmark Plate Fuge Microcentrifuge. The Plate Fuge Microcentrifuge promotion allows lab technicians the ability to afford a durable and unique centrifuge while having the opportunity to adequately store their samples in a freezer without damaging their work.
Benchmark Scientific, headquartered in Edison, New Jersey, is known for manufacturing research laboratories equipment like microcentrifuges, shakers, mixers, and rockers, among others products. The Plate Fuge is part of their innovative microcentrifuge series, it is the first microcentrifuge with a swing-out rotor for microplates. It quickly and efficiently spins down samples in PCR plates in less than 20 seconds. Before or after spinning down the plate the customer will be able to store them in their free CoolCube.
The Benchmark CoolCube is designed to safely store samples, keeping them cold and not frozen, and maintaining temperature at approximately 0° Celcius for up to 4 hours.
Benefits of the Benchmark Plate Fuge Microcentrifuge include:

Speeds up to 400 xg
Lightweight and takes up little bench space
Accepts all popular plates including skirted, semi & non and most microliter plates
Unique rotor design to prevent sample spills
The promotion will benefit labs doing PCR work, cancer research, microbiology and molecular biology.
Pipette.com distributes over 20+ major brands of pipette, 10+ brands of tips, laboratory equipment, and services pipettes in their ISO 17025 calibration laboratory. For over 18 years, Pipette.com has been providing solutions to the life science community.
Learn more about how to take advantage of the PlateFuge Microcentrifuge promotion by visiting http://pipette.com/Centrifuges?sbr=5153&sbn=Benchmark%20PlateFuge%20Microcentrifuge.
Questions, concerns, and other inquiries can be addressed to the company directly.
Contact Info:
Pipette.com
9212 Mira Este Ct.
San Diego, CA 92126
Phone: 1-800-243-3232
Fax: 1-858-536-3342
Email: info(at)pipette(dot)com