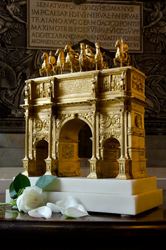 Antique Grand Tour souvenirs are ideal gifts for travel enthusiasts and history buffs.
San Francisco (PRWEB) December 09, 2014
This Holiday Season, all roads lead to Rome: Piraneseum.com offers antique architectural souvenirs of the Grand Tour - paintings, models, and decorative arts.
Beginning more than 300 years ago, intrepid tourists began undertaking visits to the cultural capitals of Europe. Where there are tourists, souvenirs soon follow.
The best of these mementos include both realistic and fantastical paintings of ancient Rome and its ruins; highly-crafted models of the Eternal City's ancient monuments (made from sumptuous materials including antique colored marbles, bronze and gilt); and neoclassical decorative arts also made in the richest materials, including micromosaics (jewelry, panels and table tops employing minute colored glass tiles picturing Roman landmarks - Pantheon, Colisseum, etc.).
Piraneseum, a gallery near San Francisco, has assembled and now offers for sale the most extensive collection of these luxurious remarkable souvenirs of the Grand Tour.
Piraneseum partners Lucia Howard and David Weingarten are noted architects who twice included among the AD100 - Architectural Digest's list of the world's foremost architects. Lucia and David have extensive experience with the paintings, models, graphic works, and decorative arts forming Piraneseum's offerings. Objects from their world-leading collection of souvenir architectural miniatures have formed exhibitions at museums across the United States, including the Art Institute of Chicago, San Francisco Museum of Modern Art, Museum of the City of New York, and Octagon Museum in Washington, D. C. Their exhibition, Grand Miniatures, focused on of 19th century, European souvenir architectural models, was mounted in 2011 in the International Terminal at San Francisco Airport
All Roads Lead to Rome, Piraneseum's upcoming exhibition of Grand Tour souvenirs from the 17th, 18th, and 19th centuries, will open in the San Francisco Airport in January 2017.
These rare, luxe, sought-after mementos are both the perfect complement to sophisticated interiors and pleasurable reminders of the glories on ancient civilization. For further information, please visit Piraneseum.com.