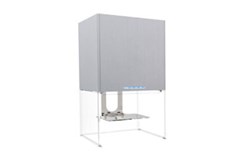 "The Buccaneer represents incredible print quality in an easy-to-use package. We wanted a gorgeous device that does not require a DIY or maker genius to make it work." - Roger Chang, Chief Executive Pirate
Palo Alto, CA (PRWEB) November 01, 2013
Pirate3D announced a detailed technical specification for the Buccaneer on their website pirate3d.com. Preorders of the printer will start on Friday, November 1 on the company's website. Preorder units, priced at US$497, will be shipped in April 2014.
Encased in a rigid two-piece polycarbonate frame, the Buccaneer sports a minimalist design with no buttons and only a discreet light indicator.
The 3D printer can be operated wirelessly from a user's computer, smartphone, or tablet.
"The Buccaneer represents incredible print quality in an easy-to-use package. We wanted a gorgeous device that does not require a DIY or maker genius to make it work," said Chief Executive Pirate Roger Chang.
Pirate3D produces all critical parts of its printer, including high-precision mechanics, in facilities within Singapore using automated computer numerical control (CNC) systems. Proximity of the manufacturing facilities to the company's R&D lab allows it to improve the Buccaneer continuously, as the product development team can receive and examine up to three prototypes per week.
Tolerances of the Buccaneer's core mechanical parts do not exceed five microns. Extreme precision owing to CNC ensures that after initial factory calibration, user calibration is not required. The new precision also enables the Buccaneer to print at a resolution of up to 85 microns per layer and an average top speed of 100 mm/sec.
"Our team has put a lot of engineering prowess into the Buccaneer to ensure its reliability and ease of use. Precision of all its mechanisms is simply impeccable. We couldn't be more excited about bringing The Buccaneer to the market," said Chang.
The Buccaneer features a specially designed unibody extruder and surface-treated nozzle which ensures a smooth flow of the printing material. This reduces the incidence of jamming even during continuous printing sessions. Pirate3D is currently running long term reliability tests of its production platform.
Preorders of the Buccaneer are expected to run for two months and end in January 2014. The company will also offer educational pricing with progressive discounts for large order volumes. Details of the educational offer will be announced in mid-November.
About Pirate3D
Founded in late 2012, Pirate3DP Pte Ltd is a 3D printing startup seed-funded by Red Dot Ventures and incubated by the Institution of Engineers, Singapore (IES). The Buccaneer, their first 3D printer, uses fused filament fabrication (FFF) technique for printing PLA. The company is accepting pre-orders of the Buccaneer on November 1, 2013 on their website pirate3d.com.
For more information, you may direct your questions to our CEO Roger Chang (contact(at)pirate3d(dot)com).