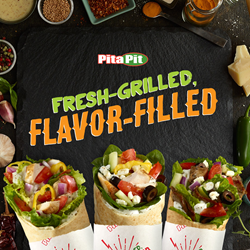 We are holding this event to celebrate another school year for the kids and parents in the area.
St. Petersburg, FL (PRWEB) September 07, 2016
Pita Pit in St. Petersburg, FL, located at 2991 66th Street North, a fresh and healthy alternative to fast food, is hosting a day-long back-to-school bash on Tuesday, September 13, when all regular pitas will be specially priced at $3.99 from 10 a.m. to 10 p.m. "We are holding this event to celebrate another school year for the kids and parents in the area," said Peter Hartley, owner of Pita Pit in St. Petersburg, who also sponsors some of the local high school sports teams.
Pitas on the menu will include a cornucopia of chicken, including chicken caesar, buffalo chicken and chicken souvlaki, as well as breakfast pitas, such as ham n' eggs and awakin' with bacon. Lean meat options include turkey, prime rib and more. Pita Pit also offers kids pitas, as well as several options for vegetarians and vegans. Toppings and spreads include several different types of veggies that are ordered daily, various cheeses and a slew of sauces, such as tzatziki, BBQ and Ancho Chipotle.
Pita Pit will also be a Toys for Tots donation site this holiday season. They will be collecting toys from October 28 - December 9.
About Pita Pit
Pita Pit creates a fun, casual atmosphere where customers can create their perfect pita amongst its endless flavor combinations of lean meats, toppings and spreads. Pita Pit St. Petersburg also offers online ordering, delivery, and catering. For more information, please call (727) 345-0900, or visit http://www.pitapitusa.com.
About the NALA™
The NALA offers small and medium-sized businesses effective ways to reach customers through new media. As a single-agency source, the NALA helps businesses flourish in their local community. The NALA's mission is to promote a business' relevant and newsworthy events and achievements, both online and through traditional media. For media inquiries, please call 805.650.6121, ext. 361.