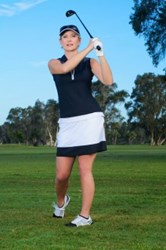 Black Magic Wedge Announces its Revolutionary Pitching Wedge as One of the Most Versatile and Affordable Wedges
Nationwide (PRWEB) October 17, 2013
The traditional degree for a pitching wedge is 48 degrees, but they can be found as low as 44 degrees by some manufacturers.
Some golfers may consider the best pitching wedge to be the one that offers the most yardage for full shots. In this case, the 44 degree club would be the answer. The most beneficial tip for shooting lower scores is to have even spaces between all clubs, at about 4 degrees.
Understanding that the short game is full of different yardages from all lie points, means that the lie will determine what club will be used to reach the green several times instead of just aiming for distance. You may be able to hit a pitching wedge 100 yards from a convenient lie, however, from a bad lie, you may need a 9 iron. What will be the most helpful activity to choose the right club for the course is to practice hitting the same yardage from different types of lies.
Reading pitching wedge reviews about how much yardage can be achieved with a particular club is not going to be enough, there will always be more shots within the short game that require skills rather than power. Possessing the right wedge that provides total confidence with will prove to be invaluable.
Blade Runner Golf, Inc. has developed a set of Black Magic Wedges that includes a 48 degree pitching wedge. These wedges offer many advantages to players with a hybrid body that has a low center of gravity which will naturally get the ball up much faster along with a zero degree bounce angle at impact. This means that this wedge will dig into all surfaces, but as the club moves forward it will ride on a continual bounce angle. Players can sweep the ball off the turf rather than try to pinch the ball perfectly and thus can acquire excellent results. Black Magic Wedges are also shank proof which allows a player to lay the face open for those short shots that need fast lift and exceptional stopping power with total confidence.
ABOUT:
Blade Runner Golf, Inc. is a company devoted to the notion that a golfer's short game can make all the difference in his or her final score—but you can take your short game to the next level only if you have the right equipment. Black Magic's hybrid wedges Conform to USGA rules, but also helps golf enthusiasts find new precision and power as they make their way onto the putting green. Black Magic Wedge can be accessed on the web at: http://www.blackmagicwedge.com
Contact:
Black Magic Wedge
2519 McMullen Booth Rd
Suite 510-129
Clearwater, FL 33761
Phone 727-726-5737
Toll Free 877-799-6099