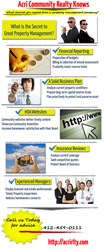 Like any good screen play or business venture, poor management of an asset – no matter how strong the investment is – seriously compromises your success. Partner with a management team that will help your vision turn into reality.
Pittsburgh, PA (PRWEB) October 10, 2013
A great property management company is like a movie production. There is a lot of work that goes on behind the scenes. The director needs to have the artistic skills to stage the scene; the right contractors to build the set and the actors need to know the part. Hiring the right studio to develop and market the production turns critics into fans. Think "Hollywood Style" to unlock the 5 secrets to great property management.
Rinaldo Acri says "Being on the Board of Directors is a difficult position; often there are more critics than supporters. It's easy to get sidetracked by small issues. If you follow our 5 key tips you are sure to discover the secret to great property management. Executive Board Members will be giving an academy award acceptance speech at the annual homeowners meeting instead of being skewered at the neighborhood picnic."
1. Financial Reporting:
A well run homeowners association should have on-going studies conducted by engineers and other construction specialists to identify how much money needs to be socked away to meet future needs. A sufficient amount must be included in annual budgets. For associations on a tight budget consider some type of a la carte property management services. Pro Tip: someone other than the board of directors needs to collect assessments, pay bills and generate financial reports for review. At the very least make sure the Property Management Company provides

Monthly Financial Reports.
A Fiscal End of Year Report.
Year to Date Budgets and Budget Comparisons.
Comprehensive Reserve Studies.
2. A Solid Business Plan:
Determine which property assets are the weakest and in need of immediate attention then develop a replace/repair cycle to accommodate findings.
Make sure the current fee structure is able to adequately fund reserves.
3. HOA Website:
The secret of success in any large organization is great communication. Homeowners associations that have interactive websites end up with a more informed and happier membership. An association website can deliver content to homeowners on a timely and frequent basis.
4. Insurance reviews:
Insurance is one of those things that many don't think about until it is too late. Unfortunately, with the tremendous exposure of homeowners associations to liability claims, this is an area where homeowner associations cannot afford to make any mistakes. The Trayvon Martin case is a prime example, the homeowner's association settlement payout was estimated to be over a million dollars. All great property management companies regularly review insurance policies to ensure coverage is current and sufficient to cover any likely loss. Doing anything less than this is betting the farm, or the homeowners association, that a catastrophic loss will not occur.
5. Experienced Managers:
Exactly who is this person? Even though many States do not require special licensing, search for seasoned industry educated professionals. Look for Management companies with Community Association Institute credentials.
In the final analysis, if the community looks good, it usually means that something positive is happening. Like any good screen play or business venture, poor management of an asset – no matter how strong the investment is – will seriously compromise success. Experienced management companies will help increase property values while enhancing the homeowners living experience. Partner with people who will help this vision, not hinder it.
If homeowners or management companies believe there is something to be added to the list follow the conversation on twitter or facebook. Pin the infographic on your Pinterest board to share.
Rinaldo Acri holds several designations, including Certified Insurance Counselor, Pennsylvania State Broker License, a graduate of Duquesne University with a Master Degree in Business Management, a part time joke teller and full time dad who loves to inject a little humor into every day. With over 165 Associations under the "Acri Umbrella" Acri Community Realty is the largest property management company in 8 counties surrounding the Greater Pittsburgh Area celebrating 20 years of great property management.