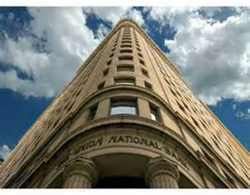 A residence shoud be stately and magnificent, welcoming yet exclusive and private. -- David W. Bishoff, President of E.V. Bishoff Company
Pittsburgh, PA (PRWEB) June 16, 2014
E.V. Bishoff Company and Lauren Klein of Re/Max Select Realty are pleased to offer the Penthouse of the 22 story Carlyle Building, located on the corner of Fourth Avenue and Wood Streets in downtown Pittsburgh.
Sophistication, luxury and excitement are the hallmark of metropolitan living. Pittsburgh is experiencing a new beginning and a renaissance. E.V. Bishoff Company's dedication to creating the single best dowtown high rise living experience is evident throughout the 22 story Carlyle, patterned after the most sought out residences in cities like London, Paris and New York.
Sweeping views of the Pittsburgh skyline, rivers, and a view of Mount Washington surround the 6000 square foot residence. 20 foot ceilings with sky lighting, a mezzanine staircase and private elevator highlight the exclusivity. Included in the 6,000 square foot Penthouse offering is the creation of a magnificent sun room located on the mezzanine level, perfect for your entertaining needs. Entertain in a truly one of a kind Pittsburgh penthouse while overlooking both rivers and the majestic Pittsburgh skyline.
Recent rankings at the top of America's Most Livable Cities have given rise to a new and enthusiastic renaissance in Pittsburgh. Brimming with what most consider the nations top healthcare and technology centers, developments in the region's energy and rich natural resource sectors such as marcellus shale, natural gas and coal have sparked renewed corporate interest and the relocation of thousands of well paid professionals to the area.
One of the main benefactors of all of this buzz has been Pittsburgh's real estate market, long regarded a value. Metropolitan living in down town Pittsburgh has just recently been discovered as the hidden gem in one of the nation's great cities.
The Carlyle represents the pinnacle of this renaissance in Pittsburgh. It is delivered decorator ready, waiting for a modern Michelangelo to call it home.
Contact Lauren Klein for information on this exclusive property and to arrange a private showing.