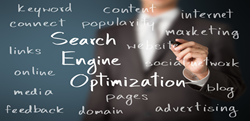 Rochester, NY (PRWEB) March 24, 2014
Azucar Media working out of the 5 Monroe Avenue location in the Village of Pittsford, NY announced that they will be offering a low rate SEO service. Some of the SEO services may be even less the half of the cost of other companies. "I was referred to Azucar Media to get help with my existing website after I received a quote of $900 per month for SEO and Azucar Media was able to do it for $500." mentions David Mark from Brighton NY.
Azucar Media works out of the offices in 5 Monroe Avenue in the Village of Pittsford, NY. Their highly qualified SEO experts are all local from Rochester, NY and they have been serving the greater Monroe County region since 2012. Azucar Media welcomes clients, businesses and organizations from all areas of Rochester including Brighton, Brockport, Pittsford, Penfield, Webster, Fairport, Perinton, Henrietta, City of Rochester, Rush, Gates, Chili, Greece, Spencerport, Canandaigua, Victor, and much more.
On top of SEO services, the local new media organization also designs websites for businesses, provides content management, social media management, pay per click, lead generation, logo design, online reputation and key word targeting services. At Azucar Media's website, all services are listed as well as their hours of operation. Brighton and Pittsford, NY business owners should keep an eye for their special offers that are announced on their website as well as their twitter and Facebook page.
Azucar Media sees local businesses utilizing new media more and more everyday and traditional media on the decline as local businesses get found for their products and services. Businesses in the Rochester area need to understand that people are still searching for the services but they are doing it on the internet and not through a phone book. Azucar Media helps local businesses with the transition from traditional marketing efforts into new media marketing that is cost effective and more responsive. A lot of times business owners try to do these attention to detail changes by themselves which consumes a lot of productivity time and many times business owners are working outside their core skills resulting in errors or lack of insight to optimization. Azucar Media provides the expertise and know how in helping local businesses in the Pittsford, NY area with web design, SEO and social media content management to maximize efforts effectively.
So if you're local business or organization needs website help or is seeking a free consultation moving forward to improve its online presence, keyword ranking and social media interaction, call Azucar Media today between the hours of 10am until 1pm and again from 3pm until 6pm on weekdays and 11am until 3pm on weekends. They are there to help.