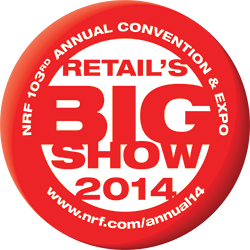 Visitors to the booth will be able to click their own photo, type a message to share their love for the event and tweet it in real-time with the official event hashtag - #nrf14
Columbia, MD (PRWEB) January 12, 2014
Pixe LLC announces that the National Retail Federation (NRF) will leverage the Pixe Social Photo Booth solution to provide attendees with a memorable experience at the Retail's BIG Show 2014, its 103rd Annual Convention and EXPO.
Retail's BIG Show is expected to draw more than 29,000 attendees and 550 exhibitors at the Jacob K. Javits Convention Center in New York City, January 12-15, 2014.
The Retails's BIG Show Photo Booth will be accessible to guests at the Opening Night Reception (sponsored by Microsoft®) as well as at the International Lounge, Galleria Level 4. Visitors to the booth will be able to click their own photo, type a message to share their love for the event and tweet it in real-time with the official event hashtag - #nrf14. The photo booth users will be provided the option to get a copy of their photo via email or to print it at the booth.
About Pixe
Pixe LLC is a Maryland-based start-up providing turnkey social promotional solutions that is on a mission to take the challenge out of social media marketing by converting audiences into brand ambassadors. Launched in April 2013, Pixe's flagship social marketing solution - Pixe Social - to help boost the social presence of a number of leading brands and events including New York Comic Con, MCM London Comic Con and Event Marketer Magazine. http://www.pixesocial.com
About NRF
NRF is the world's largest retail trade association, representing discount and department stores, home goods and specialty stores, Main Street merchants, grocers, wholesalers, chain restaurants and Internet retailers from the United States and more than 45 countries. Retail is the nation's largest private sector employer, supporting one in four U.S. jobs – 42 million working Americans. Contributing $2.5 trillion to annual GDP, retail is a daily barometer for the nation's economy. NRF's This is Retail campaign highlights the industry's opportunities for life-long careers, how retailers strengthen communities, and the critical role that retail plays in driving innovation. http://www.nrf.com