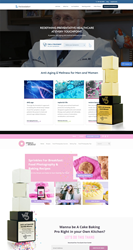 Web design and functionality are constantly changing as technology evolves to meet the needs and demands of online viewers
ORLANDO, Fla. (PRWEB) October 14, 2021
Pixel Chefs, an SEO web design firm based in Orlando Florida, is pleased to announce it has won two web design awards from the Academy of Interactive and Visual Arts 16th Annual w3 Awards. The awards were given for creative web design work done for The Bio Station and Sprinkles for Breakfast, both client's of PixelChefs.
Selected from over 3000 entries, the W3 Awards honors digital creators for website, marketing, video, mobile, social and podcast content.
"Web design and functionality are constantly changing as technology evolves to meet the needs and demands of online viewers," said Alex Alexakis, President of PixelChefs. "We are extremely grateful our technical and creative design efforts impressed the judges enough to be selected for a Gold and Silver W3 award. We congratulate all the winners."
The two PixelChefs clients that won awards are:

the biostation (thebiostation.com) won a Gold Award in General Websites-Health Care Services.
Sprinkles For Breakfast (sprinklesforbreakfast.com) won a Silver Award in General Websites-Food & Beverage
About PixelChefs
PixelChefs is a full-service SEO Web Design firm. Based in Orlando, Florida, PixelChefs creates beautiful websites with SEO built in to enhance a client's visibility and unique business goals.