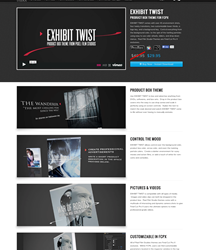 His is a great new theme made to display and exhibit products.
Aliso Viejo, CA (PRWEB) April 15, 2014
Pixel Film Studios, FCPX Template Developer Announced the Release of Exhibit Twist Theme for Final Cut Pro X.
"This is a great new theme made to display and exhibit products," said Christina Austin, CEO of Pixel Film Studios.
Use Exhibit Twist to box and advertise anything from DVDs, softwares, and box sets. Drop in the product box covers into the easy to use drop zonea and scale it perfectly using on-screen controls. Stylize the text to match the style desired and watch Exhibit Twist come to life without ever having to manually animate.
Exhibit Twist allows control over the background color, product box color, arrow color, and even the twisting particle colors. Create a darker environment for scary movies and action films, or add a touch of white for rom-coms and comedies.
Exhibit Twist is compatible with all types of media. Images and video clips can both be dropped in the product box. Pixel Flim Studio themes come with a multitude of interesting and dynamic camera shots to give Final Cut Pro X users the ultimate options to make professional grade videos.
All of Pixel Film Studios themes are Final Cut Pro X exclusive. Within FCPX, users can find customizable parameters located in the inspector window in the top right corner of the FCPX browser. Control and stylize the colors and text to create new moods.
Established in 2006, Aliso Viejo, California-based Pixel Film Studios is an innovative developer of visual effects tools for the post-production and broadcast community. Their products are integrated with popular non-linear editing and compositing products from Apple FCPX. All Apple, the Apple logo, and Macintosh are registered trademarks of Apple Inc. in the U.S. and/or other countries. All other trademarks and trade names are the property of their respective owners.