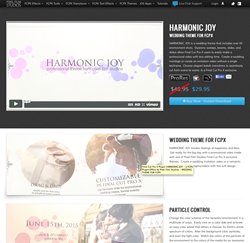 This theme was specifically made for our customers who edit wedding videos, to make the process easier and quicker.
Aliso Viejo, CA (PRWEB) April 02, 2014
Announcing Harmonic Joy Theme by Pixel Film Studios, Professional Template for Apple Final Cut Pro X.
"This theme was specifically made for our customers who edit wedding videos, to make the process easier and quicker," said Christina Austin, CEO of Pixel Film Studios.
HARMONIC JOY is a wedding theme that includes over 45 environment shots. Dyanimc sweeps, booms, slides, and dollys allow Final Cut Pro X users to easily make a professional video with less editing time. Create a wedding montage or create an invitation video without a single keyframe. Choose elegant bokeh transitions to seamlessly cut from scene to scene is a Final Cut Pro X exclusive.
HARMONIC JOY invokes feelings of happiness and bliss. Get ready for the big day with a promotional video made with one of Pixel Film Studios Final Cut Pro X exclusive themes. Create a wedding invitation video or a romantic montage of photographs/videos with this soft design.
Change the color scheme of this beautiful environment in a multitude of ways. Easily click on a color dab and activate an easy color wheel that allows a chooser for Earth's entire spectrum of colors. Alter the background color, particles, and even the light color. Match the colors of the particles of the environment to the colors of the media for an awesome look.
Pixel Film Studios allows FCPX users to easily apply media into the drop zones. Simply drag a generator into the timeline and click the blue "apply" button. Activate on screen controls for the drop zone by double clicking. This will allow the scaling and positioning of pictures and videos alike.
Select the customizable generator, title, or transition and look to the top right of the FCPX window to find the inspector window. All the published parameters will be adjustable, and intuitive with the help of easy to use sliders, drop down menus, and color wheels. Easily create a professional video without the hassle of keyframes or intense editing ability.
Established in 2006, Aliso Viejo, California-based Pixel Film Studios is an innovative developer of visual effects tools for the post-production and broadcast community. Their products are integrated with popular non-linear editing and compositing products from Apple FCPX. All Apple, the Apple logo, and Macintosh are registered trademarks of Apple Inc. in the U.S. and/or other countries. All other trademarks and trade names are the property of their respective owners.