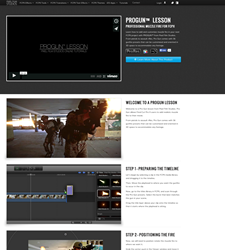 ProGun Lesson gives users step by step instructions on how to use one of our latest effects.
Laguna Beach, CA (PRWEB) March 25, 2014
Announcing the Release of ProGun Tutorial for FCPX by Pixel FIlm Studios.
"ProGun Lesson gives users step by step instructions on how to use one of our latest effects." said Christina Austin, CEO of Pixel Film Studios
ProGun has the ability to be angled left or right, and even up or down. Rotate the muzzle fire to the angle that best fits the footage. With ProGun users also have the ability to combine muzzle fire with more than one or stick with one muzzle effect. With each published parameter users can key frame the muzzle fire to move with the footage all with in Final Cut Pro X.
PROGUN™ offers over 30 customizable presets to give your next action flick an extra flare. Select from either single or multi muzzle fires, each one with it's own individual style. Customize your hue, saturation, opacity, blur, fire amount, and more. Each categories offers fun and easy to use published parameters built for you all with in Final Cut Pro X.
With PROGUN™ we give you on-screen controls to position and scale your gun fire along with on-screen controls for position, scale, and angle of your flash. Click and drag each point to the desired location. With in each category you have up to eight control points that give you the ability to control the flash back range that emits from your fire arm, all with a click of the mouse.
PROGUN™ was professionally designed to work seamlessly inside of Final Cut Pro X. As a FCPX effect, the PROGUN™ presets can be dragged and dropped onto your footage and previewed in real time without rendering. With easy-to-use controls that can be found in the FCPX inspector, you can calibrate your settings in a few clicks of a mouse.
Established in 2006, Aliso Viejo, California-based Pixel Film Studios is an innovative developer of visual effects tools for the post-production and broadcast community. Their products are integrated with popular non-linear editing and compositing products from Apple FCPX. All Apple, the Apple logo, and Macintosh are registered trademarks of Apple Inc. in the U.S. and/or other countries. All other trademarks and trade names are the property of their respective owners.