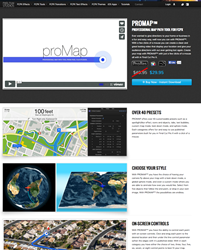 ProMap is a fun tool and visually appealing way to give directions.
Aliso Viejo, CA (PRWEB) March 24, 2014
FCPX Effects Developer Pixel Film Studios Announced the Release of ProMap, A Professional Map Path Tool for Final Cut Pro X.
"ProMap is a fun tool and visually appealing way to give directions." said Christina Austin, CEO of Pixel Film Studios
Ever wanted to give directions to your home or business in a fun and easy way? With a few clicks of a mouse users create a clean and great looking video that display the location and give the audience directions without ever getting lost again. Create a map with ProMap with just a few clicks of a mouse all with in Final Cut Pro X.
ProMap offers over 40 customizable presets such as a spotlight/blur effect, icons and objects, tabs, text bubbles, custom map mode, look down mode, and sphere mode. Each categories offers fun and easy to use published parameters built for Final Cut Pro X with a click of a mouse.
With ProMap editors have the choice of having the camera fly above the map with a look down mode, a global sphere mode, and even a custom mode where users are able to animate how ever they would like. Select from five objects that follow the end point, or drop in an image. With ProMap the possibilities are endless.
With ProMap users have the ability to control each point with on-screen controls. Click and drag each point to the desired location and then under the line control parameter soften the edges with it's published slider. With in each category editors have either the choice of two, three, four, five, six, seven, or eight control points to best fit your map.
ProMap was professionally designed to work seamlessly inside of Final Cut Pro X. As a FCPX tool, the ProMap presets can be dragged and dropped onto the footage and previewed in real time without rendering. With easy-to-use controls that can be found in the FCPX inspector, users can calibrate settings in a few clicks of a mouse.
Established in 2006, Aliso Viejo, California-based Pixel Film Studios is an innovative developer of visual effects tools for the post-production and broadcast community. Their products are integrated with popular non-linear editing and compositing products from Apple FCPX. All Apple, the Apple logo, and Macintosh are registered trademarks of Apple Inc. in the U.S. and/or other countries. All other trademarks and trade names are the property of their respective owners