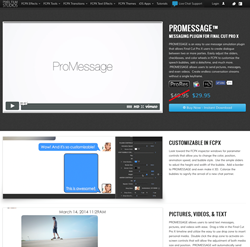 This effect is perfect for the present time and the use of messaging.
Aliso Viejo, CA (PRWEB) April 04, 2014
Announcing the Release of ProMessage from Pixel Film Studios, FCPX Effects Developer.
"This effect is perfect for the present time and the use of messaging." said Christina Austin, CEO of Pixel Film Studios
ProMessage is an easy to use message simulation plugin that allows Final Cut Pro X users to create dialogue between two or more parties. Easily adjust the sliders, checkboxes, and color wheels in FCPX to customize the speech bubbles, add a date/time, and much more. ProMessage allows users to send pictures, messages, and even videos. Create endless conversation streams without a single keyframe.
Look toward the FCPX inspector windows for parameter controls that allow you to change the color, position, animation speed, and bubble style. Use the simple sliders to adust the height and width of the bubble. Add a border to ProMessage and even make it 3D. Colorize the bubbles to signify the arrival of a new chat partner.
ProMessage allows users to send text messages, pictures, and videos with ease. Drag a title in the Final Cut Pro X timeline and utilize the easy to use drop zone to insert personal media. Double click the drop zone to activate on-screen controls that will allow the adjustment of both media size and position. ProMessage will automatically send the message upon play.
Simulate the look of popular smart phone devices with ProMessage's customizable overlay. Control the battery life and reception with easy to use sliders, adjust the time, and control the text headers. Adjust the animation speed to match the project. Create a beautiful project without the headache of extreme editing.
Using ProMessage is as easy as dragging and dropping. Stack the title layers atop one another in the Final Cut Pro X timeline to instantly start creating conversation. Feel free to adjust the height and width of ProMessage, it is built perfectly accommodate user's messaging needs. For a more dynamic look, utilize the camera controls in the background-camera key and adjust the angle of view.
Established in 2006, Aliso Viejo, California-based Pixel Film Studios is an innovative developer of visual effects tools for the post-production and broadcast community. Their products are integrated with popular non-linear editing and compositing products from Apple FCPX. All Apple, the Apple logo, and Macintosh are registered trademarks of Apple Inc. in the U.S. and/or other countries. All other trademarks and trade names are the property of their respective owners.