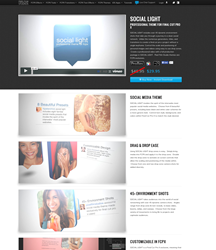 This template is a social media theme great for the current times.
Laguna Beach, CA (PRWEB) April 14, 2014
Pixel Film Studios announced the release of Social Light, a Professional Final Cut Pro X Template.
"This template is a social media theme great for the current times," said Christina Austin, CEO of Pixel Film Studios.
Social Light includes over 45 dynamic environment shots that take you through a journey in a clean social network. Utilize the numerous generators, titles, and transitions to create a final cut pro x project without a single keyframe. Control the scale and positioning of personal images and videos using easy to use drop zones. Create a professional video with a full production package in Social Light Pixel Film Studios themes are FCPX exclusives.
Social Light invokes the spirit of the interwebs most popular social media websites. Choose from 8 beautiful presets, including basic black and white color schemes for a more generic look. Control text style, background, and colors within Final Cut Pro X to match the style desired.
Using Social Light drop zones is easy. Simply bring media into FCPX and apply it to the drop zone. Double click the drop zone to activate on screen controls that allow the scaling and positioning of the media within. Choose from one and two drop zone camera shots for added diversity.
Social Light takes audiences into the world of social networking with over 45 dynamic camera shots. Angles range from drop zone & text reveals, to basic slides, booms, dollys, and sweeps. Choose from the large variety of movements to bring life to projects and captivate audiences.
Social Light is a Final Cut Pro X exclusive, meaning that everything is rigged up and customizable for ease of use. Use sliders, color wheels, and drop down menus to easily change the look of each scene. Lower thirds, transitions, and generators are all alterable with the simply click or drag of a mouse.
Established in 2006, Aliso Viejo, California-based Pixel Film Studios is an innovative developer of visual effects tools for the post-production and broadcast community. Their products are integrated with popular non-linear editing and compositing products from Apple FCPX. All Apple, the Apple logo, and Macintosh are registered trademarks of Apple Inc. in the U.S. and/or other countries. All other trademarks and trade names are the property of their respective owners.