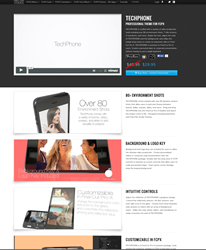 This is another great theme that we just released, perfect for app developers.
Laguna Beach, CA (PRWEB) April 09, 2014
Pixel FIlm Studios, FCPX Template Developer Announces the Release of Techphone Theme.
"This is another great theme that we just released, perfect for app developers" said Christina Austin, CEO of Pixel Film Studios.
Techphone is stuffed with a variety of video production tools including over 80 environment shots, 7 title screens, 4 transitions, and more. Stylize the text, adjust the color of Techphone and the background, and utilize the simple drop zones to create an awesome video in Final Cut Pro X. Techphone is exclusive to Final Cut Pro X users. Create a personal video or corporate presentation without having to use a single keyframe.
Background and Logo keys are included for users to allow the ultimate video production. Create personalized videos or corporate style presentations with the Techphone package. Double click the drop zone in FCPX controls to activate on-screen-controls that allow users to scale and position logos. Insert green screen footage atop the looping background.
Adjust the reflection of Techphone's gorgeous design. Control the reflectivity amount, the blur amount, and even add a tint to the glass. Choose from three beautiful color presets to match with an array of background colors. Utilize the color wheel, sliders, and checkboxes to easily customize the look of Techphone.
Established in 2006, Aliso Viejo, California-based Pixel Film Studios is an innovative developer of visual effects tools for the post-production and broadcast community. Their products are integrated with popular non-linear editing and compositing products from Apple FCPX. All Apple, the Apple logo, and Macintosh are registered trademarks of Apple Inc. in the U.S. and/or other countries. All other trademarks and trade names are the property of their respective owners.