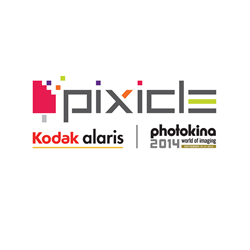 (PRWEB) September 10, 2014
Vancouver based Pixicle™ announced today that it will be unveiling its Premier Mobile Photo Book App at Photokina 2014 alongside Kodak Alaris. Kodak Alaris has invited Pixicle™ to attend Photokina 2014 and demo its Mobile Photo Book App at the Kodak Alaris booth during the event. During their time at Photokina 2014, attendees will be provided with Live demos of Pixicle's™ Mobile Photo Book App and in conjunction with Kodak Alaris, will be producing on the spot Photo Books for a number of attendees to take home as a souvenir.
Pixicle's™ Photo Book app lets customers create beautifully themed photo books right from their mobile smartphone in as little as 3 minutes. In most cases, photo books are ready for pickup in as little as an hour from one of their retail print partners in North America and Europe. Unlike other mobile photo book builders currently available which only produce simple, single image per page photo books, Pixicle's™ mobile photo book builder provides rich, vibrant, beautifully designed themes which are normally only found on desktop produced photobooks. Pixicle's™ simple and easy to use interface provides its customers an extremely comfortable user experience that will have them making photo books in minutes.
About Pixicle™
Pixicle™ is a mobile multi-retailer photo print to store application that currently supports the largest group of retail locations in the US. Users of iOS and Android devices are able to send photos on their smartphone for print to over 24,000 locations in the US and have them picked up them up in as little as an hour. Pixicle™ offers a variety of products from standard photo prints to beautifully produced Photo Books, "bringing your memories back home".
For more information please visit our website at http://www.pixicle.tv or follow us on Twitter @pixicletv and at
Facebook.com/pixicletv
Media Inquiries: Norman Lai, 604-960-1850, info@pixicle.tv
About Kodak Alaris' Personalized Imaging Business
This business combines a unique heritage, expertise and ongoing innovation to market high-quality imaging products and services online, in store and on mobile devices. Kodak Alaris' Personalized Imaging business consists of Retail Systems Solutions, the world leader in retail photo kiosks and dry lab systems, offering retailers a competitive advantage in the photo services market; Paper & Output Systems, offering photo specialty retailers, professional and wholesale labs, and photographers the broadest portfolio of traditional photographic paper and workflow solutions; Film Capture, offering consumers and professionals an award-winning range of still-camera film products; and Event Imaging Solutions, providing digital souvenir photography services and solutions at theme parks, iconic destinations, resorts and other markets worldwide.
For more information, please visit http://www.kodakalaris.com and our blog, 1000Words. Follow us on Twitter @kodakCB, on Facebook and on Instagram @kodakcb.
About Kodak Alaris
On September 3, 2013, the U.K. Kodak Pension Plan (KPP) completed its acquisition of the Kodak Document Imaging and Personalized Imaging businesses from Eastman Kodak Company and created a new company known as Kodak Alaris. The new company and its name preserve the heritage and legacy of the Kodak brand, while embodying greater speed and agility to meet market needs and changes. Kodak Alaris, which is licensed to use the Kodak brand, will focus on strategic, ongoing