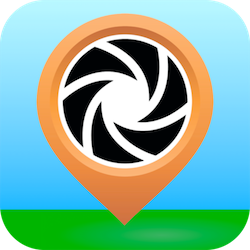 Our unique technology gives smartphone users the ability to customize photographs in a new and exciting way," said Gary Lipps, Chief Technical Officer (CTO) 'We are excited to offer an exclusive licensing agreement for this new intellectual property.
Austin, TX (PRWEB) October 26, 2016
Pixmarx The Spot LLC, smartphone application provider, today announced that it has been issued patent #9477689 titled "Embedding Digital Content Within a Digital Photograph During Capture of the Digital Photograph".
The unique Geoframe technology (ViewMarx™) developed by Pixmarx uses smartphone GPS features to identify geographical images related to specific locations. These features are incorporated into a frame in the smartphone camera viewfinder screen to customize a photograph. The resulting picture then contains personalized scenes of local interest or commercial information.
While there are other geographical based applications, the Pixmarx method is unique because the Geoframe is loaded into the active camera viewer, framing the picture before it is taken. Users have control over their selection of the customized frame and can reuse the selected Geoframe for multiple pictures.
Given the popularity of geographical smartphone applications, the superior Pixmarx technology provides camera application developers and providers with monetization opportunities using private or commercial Geoframes for their customers, which number in the millions.
Pixmarx plans to offer an exclusive licensing agreement for its patented technology. For details and interest, contact:
Law Office of Rachel Crutchfield, PLLC
Highway 290 West, Suite 202
Austin, TX 78737
512-615-1256
rachel(at)rachelcrutchfieldlaw.com
About Pixmarx The Spot LLC
Pixmarx The Spot LLC launched the Pixmarx application in the iTunes App Store in November 2013. Since that time, the Austin based company has been active in developing applications for smartphones. It recently received a patent for its smartphone digital photograph technology. For more information visit: http://www.pixmarx.com