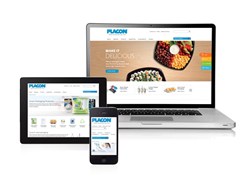 We had to take into account the vast array of devices and browsers people are using to access the site.
Madison, WI (PRWEB) February 20, 2014
A user-friendly, responsive website is exactly what Placon, a leading North American designer and manufacturer of custom and stock thermoformed plastic packaging was aiming for with its newly designed corporate site. Seamless mobile, tablet and desktop functionality and responsiveness aside, the vertical scrolling site has a refreshed look with more engaging content from thermoform packaging case studies to brochures and videos all in one convenient place.
"We had to take into account the vast array of devices and browsers people are using to access the site when we were building it," states Laura Stewart, vice president of sales and marketing at Placon. "We wanted to give users a seamless browsing experience whether the interface was big or small."
Placon contacted a number of customers to get their feedback on how they used the site in order to make its current site more engaging, sample ordering easier and navigation less unwieldy. The new site also hones in on Placon's strong sustainability platform with its EcoStar® brand of post-consumer recycled PET rollstock products.
In order to create a more unified presence and stronger user experience, Placon will also be tackling the redesign of its Barger medical device packaging's division's website, bargerpkg.com as well as its EcoStar website, ecostarplastics.com in the upcoming months.
About Placon
For over 45 years Placon has been a leading custom and stock designer and manufacturer of thermoformed plastic packaging with an extensive line of environmentally-responsible recycled sheet materials for the retail, food and medical markets. Continuously setting the bar in thermoform packaging and sustainable material solutions, Placon provides innovative, high quality and safe packaging products that harness the power of tomorrow's technology and design to solve customers' challenges today. According to Plastic News, Placon ranks among the top 20 thermoformers in North America.