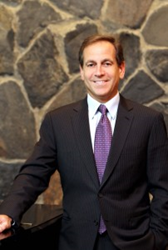 Most of the time, Achilles tendinosis doesn't result from trauma or an injury, but a slow spiral of chronic wear and tear.
New York, NY and Greenwich, CT (PRWEB) July 31, 2017
The Achilles tendon is the largest, strongest tendon in the body. Few pay attention to this tendon and muscle it until it becomes inflamed – causing pain and tightness – in a condition known as Achilles tendinosis, according to orthopaedic surgeon Kevin D. Plancher, MD, founder of Plancher Orthopaedics & Sports Medicine.
Connecting the calf muscle to the heel bone, the Achilles tendon has an important role: It allows us to rise up on our toes and push off whenever we walk or run, Dr. Plancher explains. So, it's equally important to understand the forces at work in Achilles tendinosis, which occurs when the tendon gets irritated and becomes inflamed.
"Most of the time, Achilles tendinosis doesn't result from trauma or an injury, but a slow spiral of chronic wear and tear," he says. "It's common in runners, tennis players, gymnasts, and other types of athletes who experience calf tightness." Dr. Plancher adds that the most severe form of Achilles tendinosis can lead to the unfortunate rupture.
Symptoms of Achilles tendinosis
How can you tell if you've developed Achilles tendinosis? A constellation of symptoms may arise, Dr. Plancher says, including:

Pain and/or tightness in the area behind the ankle
Difficulty climbing stairs or running
Pain after sleeping or sitting long periods
A bump in the tendon or just behind the heel bone
Irritation from shoes rubbing against the bump
Less pain wearing shoes with a slight heel instead of flat-soled shoes
When Achilles tendinosis is caused by a bone spur in the heel – a sharp, bony protrusion on the bone sometimes triggered by a calcium deposit – the spur can rub against the tendon, causing tiny tears.
"It's similar to when a rope is rubbed against a sharp rock, gradually gnawing down the rope," explains Dr. Plancher, who lectures globally on issues related to orthopaedic procedures and sports injury management. "Of course it's going to hurt."
Diagnosis and treatment options
Pinpointing Achilles tendinosis involves taking a patient's medical history and conducting a physical exam, which may exhibit swelling or thickening of the tendon, Dr. Plancher says. X-rays can discern if a bone spur is present, while imaging tests such as MRI or ultrasound can evaluate how much of the tendon may be affected and if any tears are present.
Treating Achilles tendinosis varies by patient – the more severe the symptoms, the more aggressive treatment may be. For many, rest and non-steroidal anti-inflammatories help lower pain and swelling, while devices known as heel cups can reduce pain by lessening stress on the tendon while walking. A walking boot or brace may also be prescribed if symptoms are severe.
As with many orthopaedic conditions, physical therapy is a mainstay of Achilles tendinosis treatment, helping patients properly stretch and strengthen the tendon and surrounding tissues while improving movement of the calf muscle itself. Other non-surgical therapies include ultrasound therapy, massage, shockwave therapy and topical nitroglycerin patches, which can increase blood flow to the area and promote healing.
"Other so-called biologic approaches are on the horizon as well," Dr. Plancher says. "One is platelet-rich plasma, which isolates growth factors in a patient's own blood and injects that serum into the inflamed tendon. Another promising treatment option is stem cells."
When non-invasive measures do not work, surgery becomes a last resort treatment option. "The type and method of surgery depends on each patient and their specific case, but success rates can be high and patients can reliably return to their previous activity level afterward," he says.
Kevin D. Plancher, MD, is a board-certified orthopaedic surgeon and the founder of Plancher Orthopaedics & Sports Medicine.
Plancher Orthopaedics & Sports Medicine is a comprehensive orthopaedics and sports medicine practice with offices in New York City and Greenwich, CT. http://www.plancherortho.com