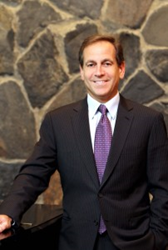 Because the cartilage, bone and ligaments in the healthy parts of the knee are undisturbed by this procedure, many patients tell me a partial knee replacement feels 'more natural' to them afterward than a total knee replacement.
Greenwich, CT, and New York, NY (PRWEB) November 04, 2016
Why undergo a total knee replacement when only one part of the knee joint is damaged by osteoarthritis? This question is becoming extremely relevant as improvements in artificial joints and surgical techniques make partial knee replacement a better choice for certain patients, helping them recover more quickly and get back to their favorite sports and other activities, according to Kevin D. Plancher, MD, founder of Plancher Orthopaedics & Sports Medicine.
Osteoarthritis, or "wear and tear" arthritis, in the knee is estimated to affect 1 out of 2 adults by age 85, but Dr. Plancher says it's becoming increasingly recognized that in 6% to 40% of those with knee arthritis, the disease is limited to just one area of the knee.
During knee replacement surgery – meant to improve motion, flexibility and comfort levels of those with severe knee osteoarthritis – damaged bone and cartilage are "resurfaced" with metal and plastic parts. But in partial, or "unicompartmental" knee replacement, only a portion of the knee is resurfaced. Because this is done through a smaller incision and doesn't disturb the knee's healthy tissues, patients typically spend less time recuperating and get back to regular life even sooner, Dr. Plancher explains.
"Like early total knee replacements in the 1960's, earlier partial knee replacements showed mixed success," says Dr. Plancher, also a Clinical Professor in Orthopaedics at Albert Einstein College of Medicine in New York. "But recent advances in the design of artificial joints, as well as in surgical techniques and the use of the robot has catapulted the outcomes of partial knee replacements as equal to or even surpassing those of total knee replacements."
Who are the best candidates for partial knee replacement?
Presenting data at the European Society of Sports Traumatology, Knee Surgery & Arthroscopy (ESSKA) Meeting in May 2016, Dr. Plancher and colleagues highlighted the overwhelming success of partial knee replacement surgery for either the inside or outside compartment of the knee in a younger, sporting population.
"Patients were able to return to sports such as jogging, tennis, golf, downhill skiing, and basketball without evidence from imaging tests showing any loosening, artificial joint wear, or worsening of osteoarthritis in the opposite side of the knee," he explains.
But the success of partial knee replacement depends highly on picking the right patients for the procedure, he notes. First, patients who are morbidly obese are not good candidates since their artificial joints seem to fail more frequently.
Beyond that, what criteria contribute to successful partial knee replacement? Dr. Plancher says they include:

Patients must have pain in only one side of the knee that corresponds to imaging tests showing joint damage unless the patient understands that they may need a second operation to reconstruct the ligaments.
If patients have instability at the front or the back of the knee due to anterior cruciate ligament (ACL) damage, partial knee replacement shouldn't be attempted
"Patients often undergo a partial knee replacement when they find themselves avoiding activities that they previously enjoyed because of severe pain," he says. "When walking, shopping or beloved sports are compromised or even prevented by knee pain, it may be time to consider a partial knee replacement to return to all those activities without restrictions."
Tips on what to expect during partial knee replacement surgery
Partial knee replacement surgery typically requires only a 3-to-4-inch incision, versus the longer incision required for total knee replacement. Often, self-dissolving stitches are used, also hidden under the skin for a better cosmetic appearance when healed.
What else can you expect from partial knee replacement? Only an overnight or even outpatient stay is typical, with a quicker recovery possible because of less pain after surgery and less blood loss, says Dr. Plancher, who lectures globally on issues related to orthopaedic procedures and sports injury management.
Some discomfort after surgery is normal, but non narcotic medications are available to manage pain and patients begin putting weight on the knee within hours of the procedure. A physical therapist also teaches patients exercises to maintain their range of motion and restore their strength. Within 2 weeks, most patients are driving their cars again and have resumed daily activities.
"Because the cartilage, bone and ligaments in the healthy parts of the knee are undisturbed by this procedure, many patients tell me a partial knee replacement feels 'more natural' to them afterward than a total knee replacement," Dr. Plancher says. "They might also find it bends better. In the hands of a trained, skilled surgeon, partial knee replacement surgery is a reliable and even ideal way to alleviate pain and restore function in the right patients."
Kevin D. Plancher, MD, is a board-certified orthopaedic surgeon and the founder of Plancher Orthopaedics & Sports Medicine.
Plancher Orthopaedics & Sports Medicine is a general orthopaedics and sports medicine practice with offices in New York City and Greenwich, CT. http://www.plancherortho.com