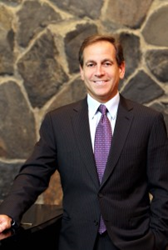 The most common question asked is if a robot is performing the patient's surgery. The resounding answer to that is no.
New York, NY and Greenwich, CT (PRWEB) June 15, 2017
With knee replacement surgeries becoming increasingly popular among active adults whose joints have been damaged by osteoarthritis comes a parallel surge in robotic-assisted surgeries, which are proving to be more precise and usually offer a quicker recovery, according orthopaedic surgeon Kevin D. Plancher, MD, founder of Plancher Orthopaedics & Sports Medicine.
Nearly 700,000 people ages 45 and up undergo knee replacement surgery each year, according to the National Center for Health Statistics. These surgeries are primarily used to treat those whose knee joints have degenerated due to osteoarthritis, the surgery – whether a partial or total joint replacement – can be done in two ways: conventionally, which relies on the surgeon's visual assessment of the knee and direct manipulation; or robotically, which uses CT imaging and a robotic arm to assist the surgeon with precise measurements.
In the United States, the Food and Drug Administration has approved three robotic systems for knee replacement. Stryker Orthopaedics, a global leader in medical technology that manufactures prosthetic knee joints, acquired Mako Surgical Corp. in 2013. The Stryker/Mako system has used their robotic arm-assisted surgery for more than 50,000 partial knee replacements, according to 2016 research in the American Journal of Orthopaedics.
"The Stryker/Mako robotic system is a great example of how technology is transforming how knee replacement surgeries are done," Dr. Plancher says. "I'm excited to be able to offer my patients this cutting-edge option to help them resume their active lives hopefully without chronic pain as soon as possible."
How is robotic knee replacement performed?
Patients tend to have many questions about how robotic surgery is performed, Dr. Plancher notes. The most common question asked is if a robot is performing the patient's surgery. The resounding answer to that is no. Despite the name, a human surgeon is very much in charge of the procedure. So, how is robotic knee replacement carried out? Dr. Plancher describes the steps:
1. First, a CT scan, which is a type of special x-ray, of the patient's knee is used to generate a 3-D virtual model of their specific anatomy. This model is loaded into the Stryker/Mako software and the surgeon uses it to personalize the surgical plan.
2. In the operating room itself, the surgeon uses the robotic arm to assist the surgery, guiding it within the precise boundaries defined by the surgical plan. The robotic surgical tools resurface the damaged part of the knee.
3. The robotic system allows the surgeon to make changes as needed based on what is visualized inside the knee.
4. The surgeon places metal components on the ends of the thighbone and tibia bone (below the kneecap), cementing them in place. A plastic insert is then placed between the metal components to enable smooth knee movement.
"We're simply taking advantage of technology to assist us in resurfacing the bones and individualize treatment to a patient's own knee anatomy," explains Dr. Plancher, also a Clinical Professor in Orthopaedics at Albert Einstein College of Medicine in New York.
"Robotic surgery helps to tightly control factors such as lower leg alignment, soft tissue balance and other variables that all contribute to how successful the surgery is overall," says Dr. Plancher, who lectures globally on issues related to orthopaedic procedures and sports injury management. "Research is making an attempt to improve accuracy through robotic assisted knee replacement in the hope of improving the longevity of the prosthesis."
Kevin D. Plancher, MD, is a board-certified orthopaedic surgeon and the founder of Plancher Orthopaedics & Sports Medicine.
Plancher Orthopaedics & Sports Medicine is a comprehensive orthopaedics and sports medicine practice with offices in New York City and Greenwich, CT. http://www.plancherortho.com