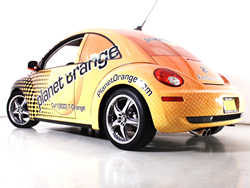 "We understand that Levi's® Stadium is the jewel of Northern California and the entire NFL," says Cocozza. "We take the opportunity to keep the home of the San Francisco 49ers pristine and pest free with natural based products as a great honor."
San Jose, CA (PRWEB) October 16, 2014
Planet Orange is pleased to announce its selection as the pest control provider for Levi's® Stadium. Locally owned and operated, Planet Orange was awarded the three-year agreement due to its sustainable philosophy and industry expertise.
"Planet Orange's approach with people and pet friendly products are perfectly aligned with the sustainable philosophy and the LEED certified Levi's® Stadium," says Nathan Cocozza, President of Planet Orange. Planet Orange was founded on the principle of finding creative, eco-friendly solutions to pest control issues that are both effective and sustainable.
"We understand that Levi's® Stadium is the jewel of Northern California and the entire NFL," says Cocozza. "We take the opportunity to keep the home of the San Francisco 49ers pristine and pest free with natural based products as a great honor."
Planet Orange, headquartered in San Jose, will be administering pest control services year-round to the 1.85 million square feet of Levi's® Stadium; paying special attention to the 28 concession stands, fine restaurants, player's areas and seating.
"Our leadership and innovations in botanical plant based products, has allowed us to offer real pest control solutions to the eco-concerned population of Northern California, that other providers cannot offer," says Cocozza.
Levi's® Stadium is the first stadium in the United States, that is home to a professional football team, to receive LEED Gold certification as new construction. Levi's® Stadium was designed to be one of the most compelling sports and entertainment venues in the country, while maintaining a disciplined green approach to sustainable design.
###
About Planet Orange
Planet Orange was established as a sustainable pest control, termite, and construction company. Headquartered in San Jose, CA, they service the greater Bay Area (Napa to Monterey). Known as the innovators and leaders in botanical plant based treatments for termites, including orange oil, their products are people and pet friendly. They provide a broad range of green services to protect and beautify the home. From termites to spiders, ants, rodents, cockroaches, bed bugs, yellow jackets, and silverfish, they provide effective eco-friendly solutions.
Their experience with wood destroying organisms lead to their growth and outstanding services in construction. They provide simple dry rot repairs to building new decks, or complete kitchen and bath remodels. Planet Orange was voted 2013 Small Business of the Year by the San Jose Silicon Valley Chamber. They also have an A+ Rating with the Better Business Bureau. For more information, visit http://www.planetorange.com or call 800-7-Orange. #49ers, #ComeToPlay, #LevisStadium.