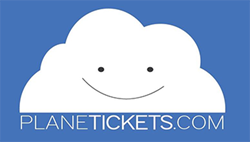 As two female founders in the tech industry, we wanted to take a different approach
Rockville, MD (PRWEB) March 17, 2015
New travel site PlaneTickets.com has launched their flight search engine. PlaneTickets.com combs hundreds of global and domestic airlines and travel agencies with the mission to get you the best price and most options. PlaneTickets.com allows users to save money by booking directly on the airline's or travel agency's website.
What makes PlaneTickets.com different from other travel sites?
PlaneTickets.com is a socially conscious website which supports medically-oriented NGOs and non-profits. At the same time, users receive quality results and are able to find cheap airline tickets and save money.
"'Plane' and to the point - we fund good work. Simply search for flights and book through the site, and collectively, these simple acts of our users add up to create measurable impacts globally. Our mission is to improve global health and make sure volunteers, supplies, and medicine get where they're needed most. 10% of our revenue after costs is dedicated to our social responsibility efforts," says Sunmee Huh, CEO of PlaneTickets.com.
PlaneTickets.com provides users with a simple, intuitive interface for flight search powered by Dohop, while helping to solve some of the world's most pressing health problems.
"As two female founders in the tech industry, we wanted to take a different approach," says Dahlia Huh, CFO of PlaneTickets.com. She continues, "We wanted a user-friendly site to be out there for people who need to buy plane tickets regardless, but also love to contribute to good work. Users will find many cheap booking options, and PlaneTickets.com includes select low-cost carriers in the results."
PlaneTickets.com was founded by 17 year old Dahlia Huh, who will attend Harvard University this fall, and Sunmee Huh, senior at University of Maryland, College Park. Hotel search and car rentals to come soon.
Contact:
Sunmee Huh
sunmee(AT)planetickets.com
3018145778
###