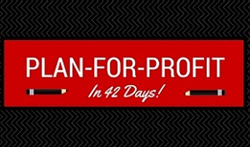 With 29 million small businesses in the US, they're a critical contribution to our economy. When they fail, it impacts us all" Anna Kennedy, CEO
Monrovia, CA (PRWEB) October 19, 2015
Today, RainMakers (US), a business development consultancy, launched Plan-for-Profit, a 42-day program for small business owners who are eager for growth, but experiencing challenges in getting to their goals.
Plan-for-Profit helps business owners locate the source of their obstacles and create a laser focused plan to tackle them and get to increased profits. The program uses Masterclass webinars and Workbooks with eMail and live Coaching to support business owners in moving from overwhelmed to empowered.
"We're very excited about Plan-for-Profit and the difference it's going to make in the economy. With 29 million businesses in the US alone, representing 55% of the jobs, we can't afford for any small business that's got a great product or service to go under for lack of help. We expect to be providing that help to businesses in droves", said Anna Kennedy, CEO of RainMakers and creator of Plan-for-Profit.
Programs are available monthly, starting in December 2015. Business owners can also attend a free Workshop to get a taster of the program. The program is available at three levels to suit every small business owner's budget.
"Our coaches are standing by to support our small business customers. We match our coaches to the customer's business and to the specific breakdowns they're having, so they can really build a roadmap that will get results fast", said Jeff Cohen, CRO of RainMakers and responsible for operations for Plan-for-Profit.
###
About RainMakers
RainMakers (US) (http://www.rainmakersus.com) is a business development agency created specifically to serve the unique needs of growing professional services firms. Our agency delivers business development strategy and execution, supporting businesses with marketing, demand generation, sales and client management. Only with this type of balance can businesses generate the sorts of results they want.
Founded by a successful business development executive with decades of experience directing business development operations for technology agencies, RainMakers also boasts a dynamic team of seasoned professionals that are well versed in the best practices within the their respective fields.
Plan-for-Profit
Plan-for-Profit (http://www.planforprofit.biz) is a 42-day break-through program to a fast-track business. One where small businesses will know what needs to be done and how to get unstuck and start living the dream again. That's only possible if they're making profit. It's NOT a walk in the park. It's an intense, guided activity, so that businesses can get out of the nightmare.