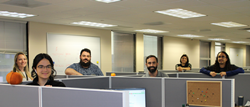 "It's inspiring to be growing at such a rapid pace and continuing to have the opportunity to create high paying careers for so many individuals." -Kevin Priddy, CEO of PlanHub
WEST PALM BEACH, Fla. (PRWEB) October 07, 2020
PlanHub (https://www.planhub.com), a groundbreaking construction software for general contractors, subcontractors, and suppliers, is delighted to announce its office expansion to the third floor at the 1665 Forum Building in West Palm Beach. Following January's first office expansion, this new office space will provide PlanHub employees with much-needed room to support its accelerated business growth.
The additional floor space is 9,463 total square feet, bringing the total square footage between PlanHub's current 9th and new 3rd floor to 18,651 square feet. This added area will allow PlanHub to accommodate more than 50 additional employees in the coming year. PlanHub was represented by Derek Baker from Colliers International to negotiate the expansion. As part of the lease agreement, PlanHub will add its signage to the building's fascia, giving the company a significant presence in the heart of West Palm Beach.
The third floor will be home to the sales and product development departments. Employees of these departments are highly paid, earning an average income of over $85,000 a year.
"It's inspiring to be growing at such a rapid pace and continuing to have the opportunity to create high paying careers for so many individuals. The additional floor space will allow us to nearly triple our sales department and double our engineering team," says Kevin Priddy, CEO at PlanHub. "Staying connected to the unique culture at PlanHub, the 3rd floor will include some fun space with a massage chair, arcade game area, and collaboration rooms equipped with video game consoles for the team to enjoy during their downtime."
Growing at over 200% annually, PlanHub has 54 employees, but is anticipated to increase to 120 by 2021. The third floor features technology-enabled conference and huddle rooms where teams can collaborate with colleagues. The new office space mirrors PlanHub's trailblazing spirit and innovative culture in the construction tech industry.
PlanHub
PlanHub is a top-rated cloud-based construction plan room and bidding software. Built for tradesmen in mind, PlanHub is designed around the user workflow to help boost productivity, maintain deadlines, increase revenue, and build relationships for general contractors, suppliers, and subcontractors. Post projects easily or submit bids with anytime-anywhere collaboration for every commercial construction trade. To efficiently tackle your next project and stay connected, go to https://www.planhub.com.