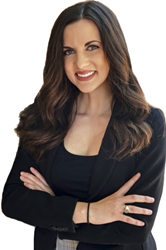 PLANO, Texas (PRWEB) October 01, 2021
The Crowder Law Firm, P.C. is proud to announce that Associate Attorney Morgan McNabb has been admitted to the Eastern District of Texas Federal Court. Attorney McNabb represents clients facing state and federal crimes, including drug charges, property crimes, weapons offenses, and violent crimes.
The Eastern District of Texas Federal Court is made up of 43 Texas counties that include densely populated cities such as Plano, McKinney, and Frisco. The District's mission is to provide residents of these areas with quality service and government, employ caring staff, and instill public trust.
Morgan McNabb is licensed to practice in her native state of Texas and is a member of the Texas Criminal Defense Lawyers Association. Previously, Attorney McNabb served in the Caprock Regional Public Defender's Clinic as a Student Attorney. At the clinic, she gained experience fighting misdemeanor charges such as assault, theft, and criminal trespassing for indigent defendants. Her work at the clinic earned her the Judge Ken G. Spencer Award as well as the Distinction Award for Trial Advocacy.
Originally from Brownwood, Texas, Attorney McNabb attended Texas Tech University, where she graduated with a B.A. in Psychology in 2017. In May of 2020, she earned her law degree from Texas Tech University School of Law.
About The Crowder Law Firm, P.C.
Serving clients out of their Plano, Texas office, The Crowder Law Firm provides representation for state and federal clients throughout the state of Texas including Collin County, Denton County, Tarrant County, and Dallas County. The firm also handles federal cases in the Eastern District and Northern District.
The firm is dedicated to advocating for Texas residents who have been charged with criminal offenses, including manufacturing and trafficking drugs, DWI, sex crimes, burglary and criminal trespass, fraud, assault and battery, and weapons charges.
Attorney Darlina Crowder has been leading the firm for over 20 years. In that time, she and her team have been able to secure over 250 not-guilty verdicts and acquittals for their clients.
To learn more about The Crowder Law Firm, visit https://www.crowdercriminalfirm.com/ or call 214-303-9600 for a free consultation.