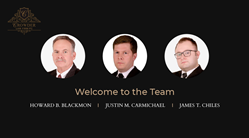 PLANO, Texas (PRWEB) May 23, 2023
Crowder Law Firm PC is pleased to announce the addition of three new attorneys to its team. Attorneys Justin M. Carmichael, James T. Chiles, and Howard B. Blackmon have joined the law firm. Firm leader Attorney Darlina Crowder believes that all three attorneys will make valuable additions to her law firm due to their demonstrated skill as trial attorneys in federal and state criminal defense.
Howard B. Blackmon is the new Managing Attorney at the Crowder Law Firm. With over 35 years of experience, Attorney Blackmon has extremely valuable knowledge and skills. This experience and skillset greatly benefit the clients Mr. Blackmon helps. He has tried thousands of criminal case at both the state and federal levels and has defended jury trial cases over 300 times.
Attorney Chiles has focused on criminal defense trials for the entire duration of his career. His proven record as a skilled trial attorney in serious criminal cases helped to earn him a spot at this well regarded Collin County criminal defense firm. He began as a post-bar intern for the Federal Public Defender in the Northern District of Texas, where he worked on capital habeas cases. In law school at SMU Dedman School of Law, he participated in numerous valuable extracurricular activities, including Negotiations and Mock Trial.
Attorney Carmichael has a similarly successful record in criminal trials. He began his career as many criminal defense attorneys do, in the public defender's office in Hamilton County, Ohio. There, he handled cases ranging from minor misdemeanors to high-level felonies. He attended law school at the University of Cincinnati School of Law, where he earned a spot on Law Review and participated in the Domestic Violence Protective Order Clinic.
Each of these attorneys bring important capabilities and knowledge in and out of the courtroom to the Crowder Law Firm. Their history of successful criminal defense representation make them ideal additions to the law firm.
About Crowder Law Firm PC
Crowder Law Firm PC is a criminal defense focused law firm that handles both state and federal cases. For more than 20 years, the firm has taken on the most difficult and serious criminal cases with a strong record of success. The firm takes on cases ranging from state DWI charges to federal homicide offenses and white-collar crime.
To learn more about Crowder Law Firm PC or to contact the attorneys, please visit: https://www.crowdercriminalfirm.com/