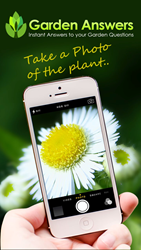 "Plant identification is important and can even be fun" says Jane Mangold, Assistant Professor and Invasive Plant Specialist at Montana State University
San Diego, CA (PRWEB) July 28, 2015
Team SOA Inc. is setting the stage for the next generation of plant identification using powerful image recognition technology. Available for iOS and Android devices, the new app: Garden Answers is designed to take the novice gardener to the next level by offering instant plant identification in almost any setting, whether it's their own personal garden or a neighborhood park. In addition to plant identification, the app also offers a keyword searchable database with over 200,000 detailed answers about plants, plant diseases and insect infestation written by garden and horticulture experts.
Free in the App Store and Google Play, the new Garden Answers app puts a wealth of information about plants, insects and diseases in the palm of your hand. With its easy-to-use interface, the user simply snaps a picture of a flower, or other distinguishing characteristic of the plant, taps submit and within seconds, the app finds possible matches. After selecting the closest visual match to the plant in question, the user is provided with answers that include plant care and maintenance help. Users can store answers under a favorites tab for future reference. If the app cannot find a match, users have the option to submit their photo and questions to an outside garden expert directly from within the app.
Garden Answers is a unique app that can be used by individual plant enthusiasts, homeowners who want to find out if a household plant may be harmful to pets or small children, teachers educating students about gardens and plants, garden experts who need a convenient source of accurate information about plants written by horticulturists, and individuals who just want an easy and fun way to identify plants and flowers!
With so many different uses, Team SOA Inc. is paving the way for more people to learn about the world surrounding them while on the go. From children to home gardeners and even professionals, anyone can find a use for this new, exciting, free app. It is available for both IOS and Android devices.
Device Requirements: - iOS

iPhone, iPod touch, and iPad
Requires iOS 8.0 or later
Optimized for iPhone 5/s, iPhone 6/6 Plus, iPad
12 MB (iOS)
Device Requirements: - Android

Requires Android 5 or later
12 MB (Android)
Pricing and Availability:
Garden Answers 1.3.5 is now available and free to download worldwide.
Download from iTunes
Download from Google Play
Press Kit (Zip)