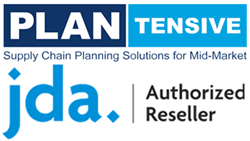 "Plantensive's expertise is a valuable resource to bring in to our reseller network. They have a wealth of knowledge on tap for mid-market companies looking to utilize best-of-breed supply chain planning solutions." - Thad Zylka, Regional VP of JDA
Venice, FL (PRWEB) November 19, 2014
Picture this... a company that offers unique software delivery options to fit their client's needs and multiple implementation options for delivering JDA Supply Chain Planning Solutions. Now envision a company with a team of experienced JDA sales and implementation specialists, who make it their personal mission to provide unique supply chain planning products and services catered to every organization, regardless of size or complexity. Well at Plantensive, this vision is a reality and the company is excited to announce their selection as a JDA Software® reseller for North America, with an emphasis on their Supply Chain Planning suite of tools.
Grant Lock, Vice President of Sales for Plantensive, says, "We're excited to expand our relationship with JDA Software as a reseller. Working together with JDA as Alliance Partners we believe we can deliver JDA planning solutions to a broader market through our unique-to-the-industry product and service options. Plantensive is not only an authorized reseller of JDA Software solutions, but we can also deliver implementation services customized to meet most every client's budgets, schedules, and resource constraints. We believe that every company, regardless of size, should have the opportunity to achieve greater supply chain planning performance that produces real savings to their bottom line."
"Resellers are instrumental to JDA's success, and I am excited to add Plantensive as a JDA Authorized Reseller," said Thad Zylka, regional vice president, JDA Software. "Plantensive's expertise is a valuable resource to bring in to our reseller network. They have a wealth of knowledge on tap for mid-market companies looking to utilize best-of-breed supply chain planning solutions."
As a JDA Software Reseller, Plantensive provides full service product and service offerings to deliver JDA supply chain planning solutions through multiple channels, including JDA Software sales, JDA Software-as-a-Service, and JDA hosting through the Cloud. Additionally, Plantensive provides multiple options for implementing JDA Software that range from fully supported project implementation services, rapid implementation options that utilize an Agile approach and a unique option where Plantensive provides all the tools necessary for their clients to implement JDA's demand forecasting and replenishment solutions independently with access to Plantensive's JDA experts when needed.
Plantensive's services extend beyond just offering JDA Software licensing and implementation services with their Supply Chain Planning-as-a-Service Program. This unique service offering gives clients access to sophisticated supply chain planning tools and planners, at a fraction of the time and cost to perform this function internally. With this program, clients have no software to buy, maintain, or upgrade, can avoid a lengthy implementation project, have zero technical concerns, and are given the immediate opportunity to benefit from improved supply chain planning performance without the long term commitment to software licenses and resources. Call or email Plantensive to discover if supply chain planning-as-a-service could be a competitive advantage for your organization.
ABOUT PLANTENSIVE
Plantensive is an authorized reseller of JDA Software with a sales and implementation Team that averages more than 15 years of experience with JDA software. Their mission is to deliver world-class supply chain planning solutions, powered by JDA Software, to mid-market and global CPG, manufacturing, and retail organizations. Visit Plantensive's website (http://www.plantensive.com) for more information about their services, or email them at info(at)plantensive(dot)com.