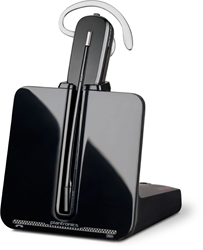 Buffalo, NY (PRWEB) March 06, 2014
VoIP Supply is announcing today that with select Plantronics Wireless Headsets, customers now have a choice of adding hardware accessories at no charge or taking advantage of a rebate offer.
The Plantronics CS500 XD Series are wireless headsets that come in monaural, binaural, or convertible single ear wearing styles.
With up to 8.5 hours of talk time and a range of up to 350 feet, the CS500 XD Series provides users with increased mobility and multitasking capabilities.
The CS500 XD headsets are used with either an Electronic Hookswitch (EHS) Cable or Handset Lifter to remotely answer and end calls. Customers can now get either of these headset accessories through Plantronics at no charge.
The Plantronics Voyager Legend CS is a single, behind-the-ear wireless headset tested for comfort that's designed for all day use with the ability to pair with both a user's desktop phone and mobile phone.
The dual-purpose Voyager Legend CS delivers seven hours of talk time for productivity in and out of the office and it now includes a $50 rebate with each unit.
For more information about the new Plantronics Wireless Headset offers, call 800-398-8647 to speak with a friendly VoIP Engineer or visit http://www.voipsupply.com/plantronics-connect-to-savings.
About VoIP Supply
We are a place of uncovering, cultivating and developing leaders. A world class place to work with big goals, a clear vision, defined purpose and a dedicated team of passionate business professionals. We love what we do and do it better than any of our competition.
Since 2002, VoIP Supply has been the leading supplier of VoIP equipment and complete VoIP solutions in North America. We are known in the industry as responsive and knowledgeable VoIP product experts.
With everything you need for VoIP, VoIP Supply has grown rapidly throughout the years. VoIP Supply is a three-time Inc. 500/5000 honoree, listed by Business First as one of WNY's Most Admired Companies, as well as one of Western New York's Best Places to Work for many consecutive years, including 2012. VoIP Supply is also the first Certified B Corporation in Western New York.