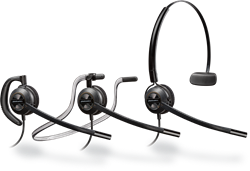 Plantronics builds globally recognized communications equipment, including the brand new EncorePro HW530 and EncorePro HW540 headsets.
Milwaukee, WI (PRWEB) October 02, 2014
IP Phone Warehouse, the number one choice for professional VoIP telephony equipment, is excited to announce the brand new Plantronics EncorePro HW530 and EncorePro HW540 headsets. These headsets are part of the HW500 series, built for call centers and all-day use, and perfect for office environments.
The Plantronics EncorePro HW530 headset features an over-the-ear wearable style, and the Plantronics EncorePro HW540 headset has a convertible form for switching between three different wearable styles.
Innovative technology brings best-in-class features to these headsets, ideal for busy agents or office workers:

Quick disconnect interface
SoundGuard hearing protection
Wideband audio up to 6,800 Hz
Noise canceling microphone
Ultra lightweight construction
Deploy the Plantronics EncorePro HW500 series headset with a phone or computer, or with audio and telephony equipment. The quick disconnect cord on the headset can be plugged into an adapter, letting businesses use the headset with a wide variety of devices and interface types.
These headsets are extremely comfortable. SoundGuard technology protects the user's ear from sound spikes up to 118 dBa. The headset's incredibly lightweight design allows it to be worn all day long without becoming fatiguing on the user's head. The technology is well proven across many industries and the headsets are constructed through a state-of-the-art manufacturing process.
Wideband audio provides lifelike sound quality for conversations between the wearer and callers. The microphones on the headsets have noise cancellation for blocking background distractions caused by coworker chatter or office equipment.
Connect the Plantronics EncorePro headsets to Plantronics audio processors and other dedicated equipment. Plantronics builds globally recognized communications equipment, including the brand new EncorePro HW530 and EncorePro HW540 headsets. See the entire line of Plantronics products here: http://www.ipphone-warehouse.com/Plantronics-s/1085.htm.
To learn more about Plantronics and these new headsets, contact IP Phone Warehouse's free pre-sales technical support team. Reach out through email: service(at)ipphone-warehouse(dot)com or phone: (888) 201-9056.
About IP Phone Warehouse
IP Phone Warehouse is the leading specialty reseller of VoIP phones, video conferencing equipment, IP surveillance cameras and network devices. We're stocked with everything that small businesses and enterprises need to deploy reliable VoIP and video solutions. A dedicated customer service team and a wide range of available online resources support every product at IP Phone Warehouse.