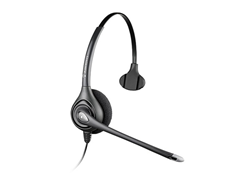 Milwaukee, WI (PRWEB) May 07, 2014
IP Phone Warehouse has been receiving raves and reviews about the Plantronics HW251N headset. This professional headset stands out among Plantronics wired headsets because of its advanced audio performance, ideal for call centers and busy offices. Find the Plantronics HW251N headset, available now for wide distribution at IP Phone Warehouse.
"Plantronics HW251N transcends the way our call center agents interact with our clients," states Thomas Dorr, Call Center Manager at Wireless FxR, an international cell phone repair center.
Background noise cancellation lets customers hear agents without becoming distracted by all of the sounds associated with busy call centers. Wideband audio also provides the headset's user with more comfortable audio, letting the agent hear more natural sounds. No more listener fatigue or asking callers to repeat themselves.
As Thomas Dorr continues, "The ultra noise canceling and wideband audio has increased productivity and customer satisfaction well beyond our expectation."
Important Features on the Plantronics HW251N Headset:

Bendable microphone with background noise cancellation
Wideband operating frequency for more natural audio
Universal connectivity through Quick Disconnect connector
Durable construction and lightweight wear
Monaural, single speaker design
There's no need to worry about compatibility with the Plantronics HW251N headset. The headset's universal Quick Disconnect cord can be plugged into a Plantronics RJ9 or 2.5mm adapter to connect the headset to a desktop or wireless phone.
Available Y-cables also provide a means of training new agents, letting supervisors and trainers listen in or join calls in progress.
Call center managers, agents and office professionals will experience completely comfortable, hands free telephony through the Plantronics HW251N headset. From the headset's audio to how it is worn on the user's head, all aspects of this device have been proven to maximize productivity.
Learn more about this headset at http://www.ipphone-warehouse.com/Plantronics-HW251N-p/hw251n.htm. Contact IP Phone Warehouse at (888) 201-9056 or service(at)ipphone-warehouse(dot)com.
About IP Phone Warehouse
IP Phone Warehouse is the leading specialty reseller of VoIP phones, video conferencing equipment and network devices. We're stocked with everything that small businesses and enterprises need to deploy reliable VoIP and video solutions. A dedicated customer service team and a wide range of available online resources support every product at IP Phone Warehouse.