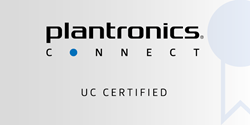 "VoIP Supply's UC Certified Plantronics reps can identify what your business needs to consider, based on your unique working environment, for your employees to be constantly connected through a UC solution." - Ben Sayers, VoIP Supply CEO
Buffalo, NY (PRWEB) November 07, 2013
VoIP Supply is announcing the completion of the Plantronics Connect Unified Communications (UC) Certification Program.
VoIP Supply can show customers the benefits of UC technology, how it adds value to a business, and the way that Plantronics Headsets are transforming the workplace.
VoIP Supply representatives went through the UC Sales Certification courses to gain an in-depth knowledge of Plantronics UC products.
Customers working with a Plantronics UC Specialist at VoIP Supply will learn:

Understanding of UC opportunities, solutions, and how Plantronics Headsets fit into typical workplace scenarios.
How Plantronics Headsets work with new changes in communications technologies.
How to increase employees adoption of UC technology with the right headset deployment.
The best Plantronics Headset options based on working styles, application, and wearing style preferences.
"Plantronics Headsets have great flexibility and lots of options," said Ben Sayers, VoIP Supply CEO, "VoIP Supply's UC Certified Plantronics reps can identify what your business needs to consider, based on your unique working environment, for your employees to be constantly connected through a UC solution."
Talk to a knowledgeable representative today about Plantronics Unified Communication devices by calling VoIP Supply at 800-398-8647 or, visit http://www.voipsupply.com/manufacturer/plantronics.
About VoIP Supply
We are a place of uncovering, cultivating and developing leaders. A world class place to work with big goals, a clear vision, defined purpose and a dedicated team of passionate business professionals. We love what we do and do it better than any of our competition.
Since 2002, VoIP Supply has been the leading supplier of VoIP equipment and complete VoIP solutions in North America. We are known in the industry as responsive and knowledgeable VoIP product experts.
With everything you need for VoIP, VoIP Supply has grown rapidly throughout the years. VoIP Supply is a three-time Inc. 500/5000 honoree, listed by Business First as one of WNY's Most Admired Companies, as well as one of Western New York's Best Places to Work for many consecutive years, including 2012. VoIP Supply is also the first Certified B Corporation in Western New York.