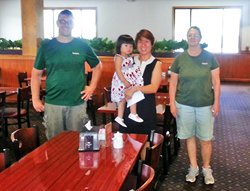 The plants look extremely fresh and attractive. The bamboo and other plants in the lobby and throughout the restaurant have already received positive comments from our guests. - Ling Leong, Owner, Ling's Buffet
Lakeland, FL (PRWEB) May 22, 2014
The PLANTZ team delivered new plants to Ling's Buffet at 4320 South Florida Ave in Lakeland, FL. The restaurant is a Lakeland favorite featuring 4 Chinese food bars, a Sushi bar, Hibachi bar and more. The restaurant's management self-maintained plantings for years and recently contracted with PLANTZ to install and maintain new plants. "The plants look extremely fresh and attractive. The bamboo and other plants in the lobby and throughout the restaurant have already received positive comments from our guests." - Ling Leong, Owner, Ling's Buffet
"PLANTZ is pleased to have an opportunity to help Ling provide a new look for her customers," said Sue Waltzer with PLANTZ. "The new plants were specifically selected for the environment in Ling's restaurant and we have excellent Lakeland-based staff who will keep them looking great."
Restaurants are the latest retailers to take advantage of enhancing their environment with plants. Interior plants create a decor that is more favorable for customers. When people dine in restaurants with "plants" versus "non-plant" environments, they tend to visit more frequently, stay longer, rate the quality of the products 30% higher and are willing to pay about 12% more for their services.
In addition to improving the aesthetics for restaurants, plants have an abundance of other benefits. These include improving the indoor quality of air, cooling the interior space, lowering carbon dioxide effects, and reducing stress for both employees and customers.
PLANTZ is a plant management service specializing in plant rentals, branding & maintenance for offices, events, weddings, restaurants, and special occasions. PLANTZ services the Greater Tampa Bay area including Lakeland, FL and Polk County.
For more information, please visit us at http://www.plantz.us.