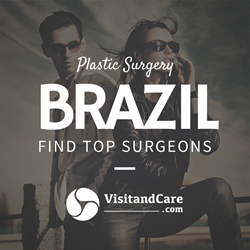 I love what I do and I realize when a patient demonstrates their satisfaction with my work it inspires me to better serve my patients.
New York, NY (PRWEB) July 07, 2015
The plastic surgery clinic of Dr. Ronaldo Passalini in Brazil has made a mark on the cosmetic surgery industry with its commitment, teamwork, and dedication — all keys to gaining excellence in quality and patient satisfaction.
The VisitandCare.com partnered medical provider is committed to patient safety, world-class results, and compassionate care. With a determined promise, patients experience the art and science of plastic surgery through a dedicated team of professionals — Dr. Felipe Amorim, Claudia Oliveira, and Dr. Moises De Melo.
Recently responding to a gratified patient, Dr. Ronaldo enthusiastically responded, "I love what I do and I realize when a patient demonstrates their satisfaction with my work it inspires me to better serve my patients."
Brazil Leading the World in Cosmetic Surgeries —
Whether you are looking for facial rejuvenation, breast enhancement, or body contouring — the top plastic surgery clinic in Rio de Janeiro will recommend the safest and most innovative options available today.
Dr. Ronaldo performs personalized consultations, targeted to the specific needs of each of his patients. With this strategy, he achieves the most beautiful, harmonious results.
The clinic specializes in a broad range of plastic and cosmetic surgery procedures including breast augmentation, tummy tuck, liposuction, neck and face lift surgery, and vaginoplasty, as well as non-surgical procedures such as Botox.
The Phenomenon of Plastic Surgery in Brazil —
What is the phenomenon of plastic surgery in Brazil? It may be understood as a display of something underlying — even profound. Plastic surgery has become a seemingly mainstream part of Brazilian culture.
According to the statistics of ISAPS (International Society of Aesthetic Plastic Surgery), Brazil ranks as the top country performing the most cosmetic surgeries. The number of plastic surgeries in Brazil increased over 130 percent between 2009 and 2015.
"We proudly partner with an exclusive group of highly-trained medical professionals around the globe that give patients the precise, honest and superior medical treatment they deserve. Partnering with Dr. Ronaldo Passalini is no exception — the clinic represents a further, effective phase in the solid execution of our VisitandCare.com philosophy," stated Amy Saracoglu, Patient Facilitator Director at VisitandCare.com.
About VisitandCare.com
VisitandCare.com was created to give individuals worldwide valued direction locating a doctor, obtain free medical treatment quotes, and uncover affordable medical treatments at destinations of their choice. Improving Patients Lives |The company provides access to exclusive doctors and hospitals who specialize in infertility, plastic surgery, cosmetic dentistry, laser eye surgery, orthopedic surgery, hair transplantation, weight loss surgery, heart surgery and cancer care. Patients are matched with devoted multilingual patient facilitators and provided tangible connections to doctors worldwide. Promoting Your Healthcare Brand | For the ultimate connection between the healthcare industry and patients worldwide, the company delivers an unrivaled commitment to create sustained value for medical partners. Contact VisitandCare.com to see if you are eligible to become a partner of our exclusive network.